When Vikash Ayyappan moved to Augusta just before his freshman year at Augusta University, he really hadn't thought of writing books. He just beat the application deadline to get into the College of Science and Mathematics and was thinking about medical school down the road. But in his free time, he decided to start writing.
Three books later, Ayyappan is a published author of a series aimed at helping children deal with everyday challenges. It was a hobby that's now become somewhat of a calling, he said.
"I wanted to gear them toward kids because I'm a pre-med undergrad student, so I don't have a whole lot of knowledge about the medical field," said Ayyappan. "But I definitely wanted to get some knowledge out, at least the basics, to the children, making sure that they grow up healthy with a proper lifestyle and everything. That was kind of the motivation."
He first thought about the books when he was in high school. Around that time, he shadowed a doctor at work and thought that was the route he would eventually take.
The three-book series offers short reads for children that are based around "Dr. Doodle's Big Health Quest." The first book is Outsmart Sickness, followed by Snap, Share and Smile and Food Frenzy. Each has its own theme that affects kids today.
"Outsmarting Sickness was inspired by the COVID-19 pandemic. This teaches kids about sickness, diseases and how to prevent that, like washing hands, those proper techniques of hygiene," Ayyappan said.
The second book covers social media and the mental health aspects of scrolling too long through sites like TikTok Instagram. The final book, Food Frenzy, is about nutrition and eating the right foods.
"They're all nice little adventures. The main character is Dr. Doodle, and he's just a scientist that works in one of the labs. He goes on to his adventure in the city of Healthville and explores all the cool parts of it."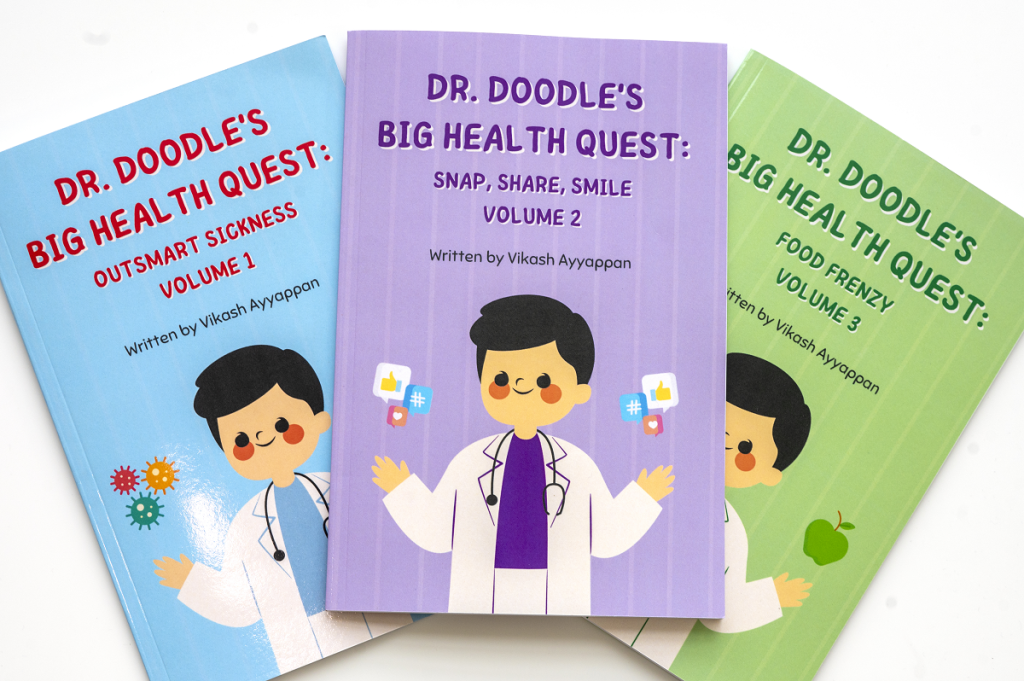 Ayyappan also came up with and designed Dr. Doodle. It was fun for him to work on tweaks to the character to make it look just like he envisioned.
Before publishing the books through Amazon, Ayyappan did plenty of research and even asked some doctors who are family friends to look things over to make sure everything was correct, as well as his dad, who was surprised when Ayyappan sent him a draft of the first book.
"So I sent him the first one, and he asked, 'When did you write this?' I told him, I just wrote it for fun at AU. He said, 'I did not know you could write it,'" Ayyappan said, laughing.
His dad was impressed with what he came up with and has helped critique and give suggestions on improvements. Ayyappan said his biggest challenge was choosing which important topics to cover for his readers.
Now that the books are available, he's hoping to do even more good for the community. He plans to give most of the proceeds to the Children's Hospital of Georgia. It was an easy decision to make.
"I really like their hospital. I've volunteered with them; I've done research with them. So it's been pretty close to me, and I was like, I might as well help them out another way."
Part of that research was done with Maya Alexandri, MD, and Brad Reynolds, MD. They conducted COVID-19 vaccination studies with the children in the hospital and wanted to see the correlation with their status and the demographic of the Southeast.
Ayyappan is a cell and molecular biology major and would love to stay here and go to the Medical College of Georgia at Augusta University, he said. He's even thought about the 3+ program.
"I mean, wherever it takes me, wherever the future leads me is where I'll go. Down the road I'd like to be serving patients, serving the community, volunteering and being involved. I really like it."
Ayyappan's books are available on Amazon and digitally via Kindle.