Each cancer patient copes with his or her diagnosis in different ways. Hobbies, family time, music and yoga are all ways for people to work through their feelings after being diagnosed with any form of cancer.
For Roel Wielinga, a leukemia patient, his escape was into a fantasy world where he was a brave warrior battling a terrible opponent for the fate of the kingdom. Now, his sketches telling the tale of his experience are inspiring a group of Augusta University art students.
"When I first started looking at it, I thought to myself, 'This is true art,'" said Cailyn Hogg, a freshman at Augusta University. "I have taken psychology classes where the teacher talked about the role art can play as a coping mechanism when a person is going through trauma. Seeing Roel's artwork definitely reinforced that theory."
Wielinga's love for art started at just 2 years old. He remembers his mom hanging drawings of birds around the family's home. Wielinga sold his first painting at 12 years old.
Wielinga was diagnosed with acute myeloid leukemia on Aug. 16, 2009. It was the same day he and his wife, Marian, were supposed to celebrate their 13th wedding anniversary. Three days later, he went into the hospital for treatment. It was there that his fantastical and artistic journey began.
"When you walk down hospital hallways and see people lying in bed watching TV, I said, that's not me," he said. "I started drawing to keep my mind occupied."
With Marian bringing him art supplies during his stay, Wielinga created sketch after sketch. Each scene depicts a different point in his cancer process. Today, the drawings he created during his battle with leukemia hang in a hallway of the Georgia Cancer Center's Outpatient Services clinic.
The sketches got the attention of Dr. Nai-Cheng Kuo, who reached out to Wielinga for a presentation to the students in her Inquiry 1000 class in an effort to show how Augusta University's Summerville Campus connects with the Health Sciences Campus.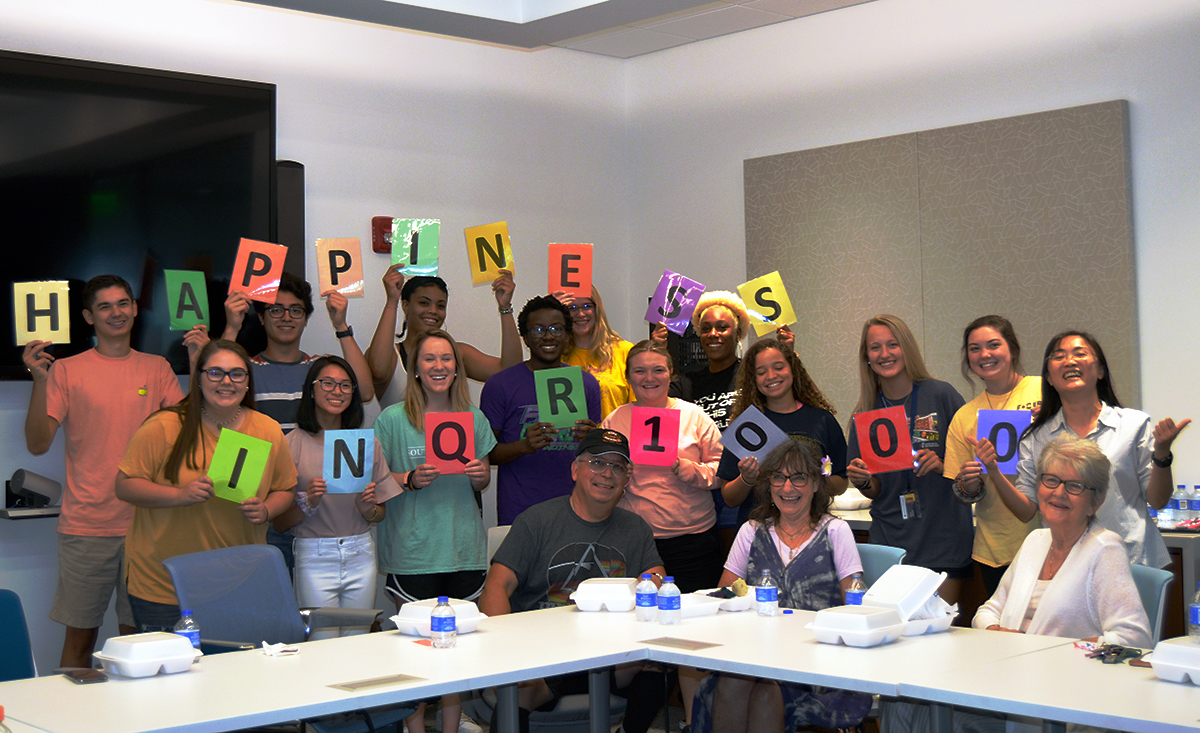 "One of the topics in this course is to help students explore how art cultivates the human spirit and inspires lives," Kuo said. "Roel's art expresses a wellspring of emotion and hope, which will open wide students' minds and give them the courage to create life values no matter how difficult life circumstances are."
Kuo believes great art uncovers students' inner richness and helps them discover the beauty of things and people around them. Roel's artwork, she believes, will awaken the creativity and human spirit of her students.
Hogg agrees. "Hearing Mr. Wielinga's story made me think about how precious this life can be," she said. "It was wonderful to hear how the drawing helped him maintain a positive attitude through his cancer treatment process."