Dale Hartenburg has been named assistant vice president for Campus Services and chief auxiliaries officer at Augusta University. Previously, he served as AVP of Student Services and the interim chief auxiliary officer.
"Tremendous, rapid growth at Augusta University has increased the demand for broader, more comprehensive amenities and services," said Dr. Karla Leeper, executive vice president of Operations. "Dale has helped the university advance many of our existing services and create new approaches in areas including parking, transportation, dining and housing, to improve the overall campus experience for students, patients, faculty and staff. Dale has done an outstanding job, and we are pleased to appoint him to this new leadership position."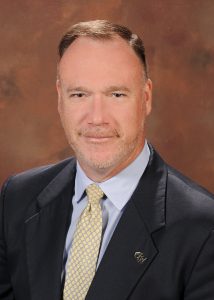 Hartenburg is charged with executive leadership and overall administration of a wide range of auxiliary operations, including campus stores, textbook operations, parking and transportation, campus dining and vending contracts, and copy and shuttle services. He will also support auxiliary and student fee operations within the Division of Enrollment and Student Affairs, which includes housing, campus recreation and student health.
Hartenburg joined Augusta University in 2002 as director of the Wellness Center at the Medical College of Georgia. He has since served in progressively responsible leadership positions, growing in unison with the university over the past 17 years.
He received his bachelor's degree from Eastern Michigan University, a master's degree in education administration from Bowling Green State University, and an education specialist degree in higher education from Georgia Southern University.
A graduate of the University System of Georgia Executive Leadership Institute, Hartenburg has more than 20 years of leadership and management experience in higher education.
Hartenburg will provide assistance in the interim while a search is underway to fill the role of AVP for Student Services.