AUGUSTA, Ga.- David Barron has been named Associate Vice President for Enrollment Services, and Dale Hartenburg has been named Assistant Vice President for Student Services in the Division of Enrollment and Student Services at Georgia Regents University.
"David Barron and Dale Hartenburg are passionate about GRU's mission and we are delighted to have them a part of our leadership team," said Dr. Mark Allen Poisel, Vice President for GRU's Division of Enrollment and Student Affairs. "With their extensive background in enrollment and student affairs, I believe they have the qualities needed to strengthen our efforts in providing students with the programs and services they need for optimal success."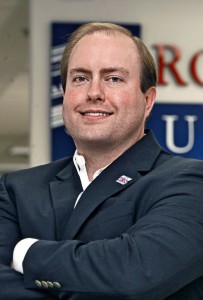 Barron, the Executive Director of Enrollment Management for Rogers State University, brings 18 years of higher education experience to GRU, including five years at Rogers State.
At RSU, Barron chaired the university's Strategic Enrollment Planning Group and developed the institution's first ever Strategic Plan for Enrollment Management. Through his recruiting initiatives, the university experienced record numbers in freshman retention, diversity, and applicant quality.
Prior to arriving at RSU, he spent five years at Oklahoma State University Center for Health Sciences where he served in various leadership roles such as being the Acting Director of Admissions and Registrar as well as Director of Student Financial Aid and Scholarships.
He is an award-winning speaker who has shared his work in enrollment management at conferences throughout the country and he has been featured on the lifestyle magazine show TULSA Live.
He received his bachelor's and master's degrees in Theological and Historical Studies at Oral Roberts University.
Hartenburg joined GRU in 2002 as the Director of the university's Wellness Center and, after five years in that position, he became the Director of Student and Auxiliary Services. In 2013, he was named Director of Student Services in which he managed a $5 million budget as well as developed strategic plans for new service facilities including housing, recreation, and dining.
With almost 20 years of experience in the field of student services, Hartenburg has conducted webinars and presented his research at conferences throughout the state.
He is a member of several professional organizations including the National Association for College Auxiliary Services and he currently serves as the basketball coach for Westminster Schools of Augusta.
He received his bachelor's degree from Eastern Michigan University, a master's degree from Bowling Green State University, and an Education Specialist degree from Georgia Southern University.
###
Georgia Regents University is one of four public comprehensive research universities in the state with nearly 10,000 students enrolled in its nine colleges and schools, which include the Medical College of Georgia – the nation's 13th-oldest medical school – the nationally-ranked Hull College of Business and Georgia's only College of Dental Medicine. The clinical enterprise associated with the university includes the 478-bed Georgia Regents Medical Center and the 154-bed Children's Hospital of Georgia. GRU is a unit of the University System of Georgia and an equal opportunity institution. http://www.gru.edu