The following message is sent on behalf of President Brooks A. Keel.
Dear family and friends of Augusta University,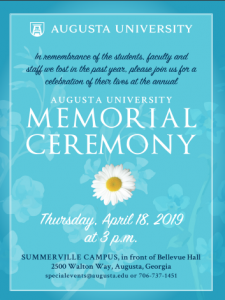 In remembrance of the students, faculty and staff we lost this past year, please join us for a celebration of their lives. The ceremony will be held on the Summerville Campus, in front of Bellevue Hall at 3 p.m. April 18.
For those of you that are unable to attend the event in person, we invite you to participate in a moment of silence at 3 p.m.
Sincerely,
Brooks A. Keel, PhD
President, Augusta University
CEO, AU Health System