Augustus has taken over the lobby of Washington Hall on the Summerville Campus thanks to the winning mural created by animation student Emily Hogue.
As part of the rebranding of the Roar Store, the official campus store and fan shop of Augusta University, Communications and Marketing invited art students to submit renderings of a mural that would greet customers.
Hogue, who also recently created an animation video for Philanthropy and Alumni Engagement encouraging students to donate to worthy causes during TAG Day, designed a vibrant mural featuring the pride of Jaguar Nation, Augustus. In the mural, the Augusta University mascot is surrounded by the Summerville arch and the vibrant green space of the campus.
"When I was thinking of the theme of Augusta University, I knew I wanted to feature the arch and I feel like there is a lot of rolling hills and green space that students and community can sit and enjoy," Hogue said. "I feel like that is a big part of the Summerville Campus. So, in the mural itself, I have two planes of grass with the arch in the middle and Augustus is coming out of the arch because he is such a good representation of the college."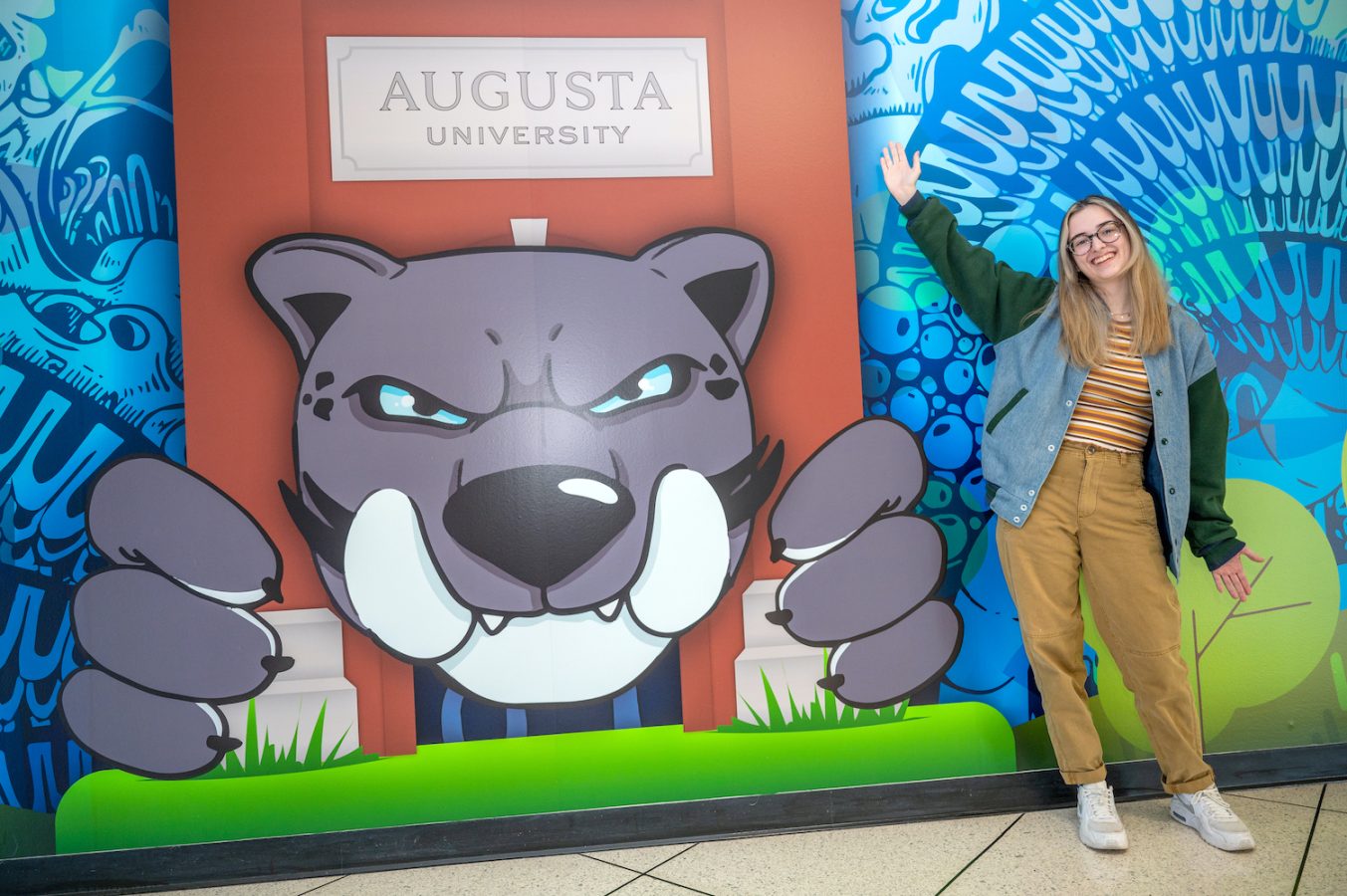 When Hogue was told her submission was chosen to be the mural outside the Roar Store, she said she was "excited beyond belief."
"It was amazing," Hogue said, smiling. "Ever since the mural went up, I walk by it every day because I have a class in Washington Hall. I just love it. It makes me so happy to know that something that I have made is up there for people to look at and enjoy. I'm so excited about it."
Augusta University President Brooks A. Keel, PhD, who recently stopped by the Roar Store to meet and thank Hogue for her winning mural, was impressed by her beautiful depiction of Augustus and the campus.
"Honestly, to have a student's work involved in this mural, this is exactly what it is all about," Keel said. "And to have this student coming out of an animation program with such amazing work, that's what we wanted to happen. This is the vision we saw with the animation program. The students in the animation program are so versatile. The animation program can help put us on the map by being a place where you can use animation in so many different types of applications. It's incredible. I'm so proud of Emily and this entire program."
Augusta University recently announced plans to expand its animation program to include an additional 21 faculty members in the Department of Art and Design, which will make it possible to attract approximately 400 more animation students in the coming years. The Department of Art and Design will also renovate two warehouses on the Summerville Campus to be devoted to growing the animation program.
The remodeled warehouses will offer students an engaging atmosphere to promote the students' creativity, said Scott Thorp, chair of the Department of Art and Design at Augusta University.
"We are going to call the warehouses, as a whole, 'The Village,'" Thorp said. "It's going to be a creative space for students on campus. And it will be the go-to place for really cool activities. It will be a very non-academic-looking space with a lot of color and excitement because students are the focal point of this project."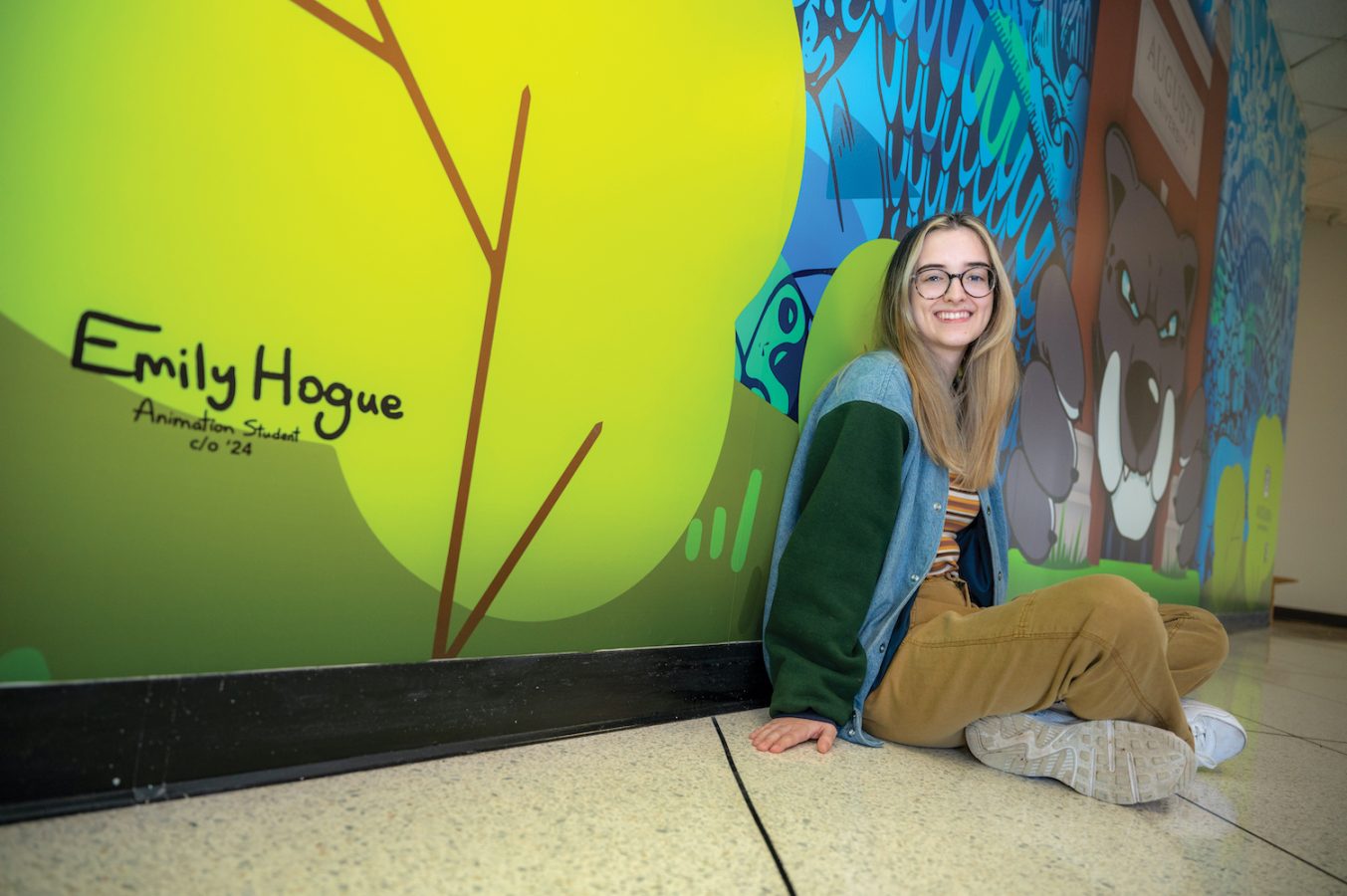 A.B. Osborne
, assistant professor and the director of animation at Augusta University, was given the Herculean task of creating an animation program from scratch in 2018.
Over the past four years, Osborne has developed a highly competitive program and successfully mentored students seeking a career in animation.
Osborne said he was thrilled to learn that Hogue's artwork was chosen as the winning mural.
"It is a bit of a dorky story, but I gamify my classes," Osborne said, laughing. "If they enter or win competitions or exhibitions, they earn 'cartoon doubloons.' It's mostly for fun, but Emily always takes these seriously. Lots of animation students entered, but Emily left nothing to chance. She not only designed it, but she mocked it up in Photoshop exactly how it would look on the wall. She is such a talented student who really wants to master her craft, so it's no surprise her piece was selected."
Osborne joked that he made a commitment to his animation students that if one of them won the mural competition, he would make sure to appreciate their artwork each day.
"I promised my students if one of them won, I'd take the long way into my office each day to admire it," Osborne said. "I am parking a bit further away now to make sure I see the mural each day, but I'm absolutely thrilled about it."
Thorp said Hogue is an outstanding student who excels in her artwork, both inside and outside of the classroom.
"Emily never ceases to amaze me with her abilities as an animator and designer," Thorp said. "I'm always eager to see her latest work. Her mural is perfect for the space beside the new Roar Store. It's fun, colorful and well-designed. It immediately grabs your attention as you walk into the building. I think she captured the essence of the new Roar Store."
Cyndy Epps, a lecturer who teaches painting and drawing classes in the Department of Art and Design, said she encouraged all of her students to submit a design for the mural.
"When the marketing team approached the art department about this mural, I thought it was a wonderful opportunity for our students," Epps said. "To me, it is very encouraging to watch a student have their work go up in space like this and see it come to a realization. And a lot of my students are coming and going out of Washington Hall, so their home is part of the new Roar Store. It's incredible that Emily gets to leave her mark on Washington Hall and the Roar Store."
Students, faculty and staff are invited to a kickoff party for the Roar Store from 11 a.m. to 1 p.m. Wednesday, Feb. 1.
The Roar Store has been transformed into a vibrant location with a fresh look through a collaboration between the Division of Auxiliary Services, the Division of Facilities Services and Communications and Marketing. Over the past two semesters, extensive painting, graphic installations, store layout and merchandise changes have been unveiled to create a new brand experience for the campus and community.
The kickoff will take place on the Washington Hall patio with participation from student organizations, the men's and women's basketball teams, coaches, cheerleaders and Jaguars mascot, Augustus. Music and food will be provided by Public Safety and Communications and Marketing. The store will also have discounts available and those who make a $10 purchase get a free Augustus bobblehead.
Hogue said she hopes students, faculty, staff and alumni enjoy the new mural that greets them at the Roar Store.
"I love it because it's such a statement piece," Hogue said, smiling. "It is so colorful and vibrant. You really have to look at it when you enter the building. It is really amazing. I love walking by it every day on my way to class. It makes me so happy."