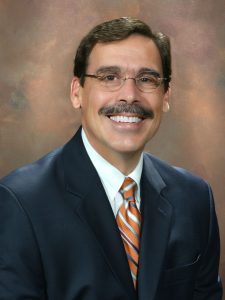 Dear Colleagues,
It is with mixed emotions that I announce that Tony Wagner, chief financial officer and executive vice president for finance, will be leaving Augusta to assume the position of chief financial officer at Clemson University, effective Feb. 1.
Tony joined our institution in 2013. During his time in Augusta, he has overseen successful efforts to align university and health system finances and administrative activities and provided steady leadership to a number of key areas during a period of tremendous growth and change.
Tony is well known across our university and in our community as a true servant leader with a kind and generous spirit. He has contributed much to our progress during his five years of service.
I am engaged in conversations with senior leaders to develop plans for an interim chief financial officer and to begin a nationwide search to fill our financial leadership position.  I will share those plans with our community in the next several weeks.
Please join me in thanking Tony for his service and wishing him the very best as begins this new chapter of his career.
Sincerely,
Brooks A. Keel, PhD