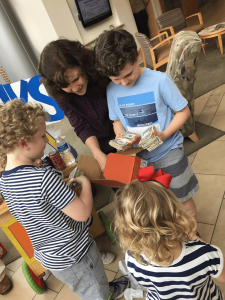 Siblings, and budding philanthropists, Charlie, Hank and twins Winifred and Murphy Mae Frost – ages 9, 7 and 4, respectively – raised more than $1,000 for the Georgia Cancer Center at Augusta University one drink at a time.
Inspired by their neighbor, Carrie McAteer, a research coordinator at the Cancer Center, the Frost children originally set up their drink stand outside their Columbia County home. The sale proved so popular, both with customers and the kids, that they repeated it at Augusta Prep and then, on Friday, at the Cancer Center's Adult Outpatient Clinic.
Among the dollars raised was a box containing 600 $1 bills addressed to the children from an anonymous donor at the North Pole.
The children have said they want the money raised to go to the Cancer Center's Image Boutique – specifically toward funding wigs for patients who might otherwise not be able to afford them.