When it comes to authoring books, Rebecca Harper, PhD, is a writing machine.
In the past three years, Harper, an associate professor for the College of Education and Human Development at Augusta University, has completed two books on writing for grades 6-12, which were published by Corwin Literacy.
"Write Now & Write On, Grades 6-12: 37 Strategies for Authentic Daily Writing in Every Content Area" was published in 2021, and "Writing Workouts, Grades 6-12: Strategies to Build Students' Writing Skills, Stamina, and Success" was recently published in March 2023.
She has a previous creative writing book, "Content-Area Writing That Rocks and Works" for grades 3-12 that was published by Shell Education in 2017.
But Harper is not stopping with three books. She currently has six more in the works.
"One thing that I have learned in this whole process is that you can't wait for somebody to make it happen for you," Harper said. "I know, for a lot of faculty, if they get a rejection, they take it personally. It certainly is difficult when you've worked really hard writing something or you have put out a proposal that you think is really good and somebody says, 'No, thank you.' But what I've learned is that you just have to keep pushing. Every 'no' that I get is one step closer to a 'yes.'"
Her upcoming books have subjects ranging from research on the presence of literacy strategies and engagements in athletics to writing skills for elementary students.
"For the book on the literacy practices and athletic coaching, I'm interviewing a lot of coaches on how they coach and the number of literacy skills that are involved," Harper said. "Whether it is vocabulary or making inferences or predictions or using textual evidence, a lot of students are doing literacy skills on the field. So, the same skills that they are using when they break down film for a football game are the same kinds of skills I can use in my ELA classroom."
Harper is also working with a doctorate student on a book about social studies instruction.
"Then, I have two more books that are due later this summer that are K-2 grade level title and another 3-5 grade level title on teaching writing," Harper said. "And I have another one that is due at the end of this year which is an elementary writing book. Then, I have one more book that will be due sometime next year which will be more ELA focused. So, it has been a really good year for me. It's been very busy."
While she has been offered several contracts to write books this year, Harper said that wasn't always the case.
"It actually took me a long time to get a second book contract," Harper said. "After my first book was published, I knew that I had more to write. But it was very difficult to get somebody to listen. However, every 'no' I got, I would just turn it around and send it to somebody else."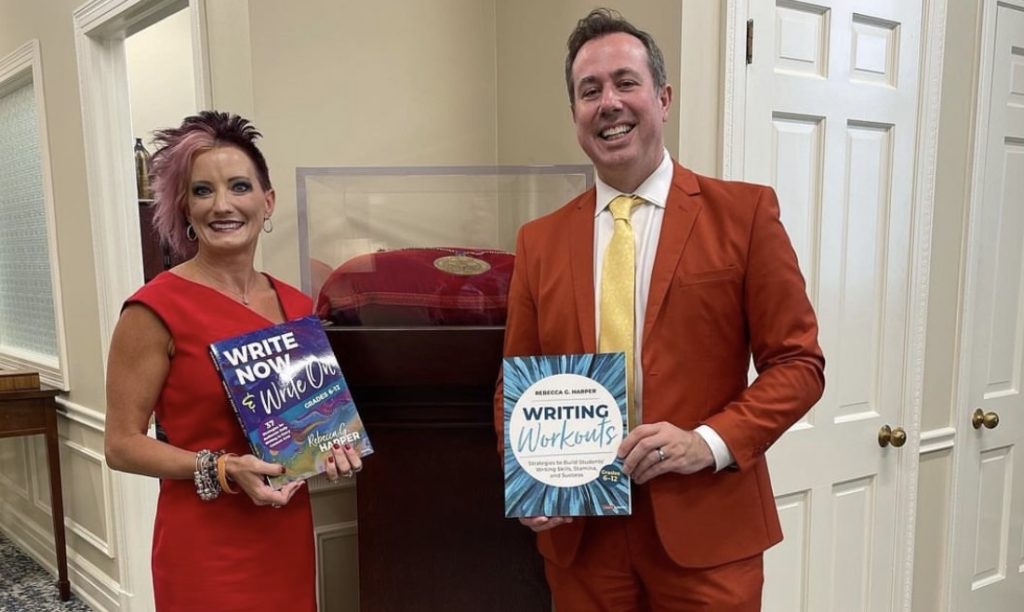 Finally, she met her Corwin Literacy connection while attending a National Council of Teachers of English conference a few years ago.
"I took several copies of my first book, and I went through the exhibit hall and talked to all the education publishers," Harper said. "I said, 'Here is the book I've already written. I've got more in my head. You need to let me write this for you.'"
If you believe in your book, you just never give up, Harper said.
"You just have to keep plugging away and understand that if you've got a project that you're passionate about and that you're willing to write and work, there's somebody out there that is willing to listen to it," Harper said. "Persistence is huge. Nobody made it happen for me other than me."
Without a doubt, Harper's passion is helping students of all ages to learn how to write.
"My books focus on why it is important for kids to write and how we can get students engaged in writing," she said. "I think that there are a lot of kids who don't think they are good at writing and don't think they know how to do it. But when you sit down and talk with young people, you realize that they actually are taking part in a number of literacy engagements in their daily lives."
"A lot of that has to do with social media and how they consume these digital components," Harper added. "But I think the way that I go about teaching writing is, what are you already doing in your life at home or your life with your friends that I can show you is the exact same thing that you're being asked to do in the academic classroom?"
In her books and during her lectures around the country, Harper said she tries to get teachers to see easier ways that they can subtly drop writing into their instruction, so students can receive more practice and become better writers.
"Writing is one of the skills that is easy to sell," Harper said. "I think a misconception for a lot of students is, they'll say, 'I'm not going to be an author when I grow up, so why do I need to learn this stuff?' But you are probably going to have to write a resume, and you are probably going to have to write a cover letter or draft an email to your boss at some point. These are life skills and being able to communicate your thoughts and ideas is invaluable."