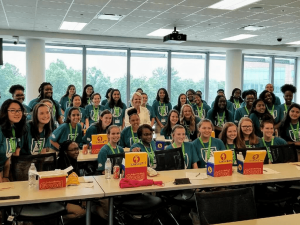 While many high school and college students look forward to having a few months off in the summer to relax and unwind, more than 60 Augusta University VolunTeen (high school) and VolunJag (college) volunteers have instead chosen to dedicate a few hours of every week to volunteering in the AU Medical Center and the Children's Hospital of Georgia.
If you've been in the hospital over the last few weeks, there's a chance that you've seen some of these volunteers walking around in their teal shirts. During this 6-week program, these young volunteers get a chance to serve in various clinical departments and units, supporting the staff and patients in a variety of ways.
Since many of the volunteers already have an interest in working in the medical field and also have a passion for helping others, this summer experience is a great opportunity for them to learn what it's like to work in a medical setting.
In addition to their volunteer responsibilities, students are also eligible to participate in weekly Lunch and Learn sessions that aim to provide these students with important tools and resources to help them be successful in their future academic and professional careers.