Lots 35 and 36 to close for five months to create 80 new parking spaces
Beginning Monday, Jan. 7, Lots 35 and 36 — between the Circle K store and the Econolodge from 15th Street to Chafee Avenue — will be closed to create a safe barrier for the demolition of the former Residence VI buildings. The area will be converted into new parking by the end of spring semester.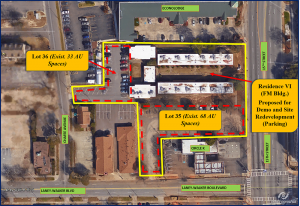 Your safety and protection are of the utmost importance to us. Therefore, Lots 35 and 36 will be fenced off from Saturday, Jan. 5, through the end of May to allow for the appropriate preparation, destruction and removal of the Residence VI buildings. After demolition and removal, approximately 80 additional spaces will be created when Lots 35 and 36 reopen.
During this closure, please seek non-reserved parking spaces in any other Augusta University lots, including the Annex II lots, Lots 69 and 70 on Laney-Walker Boulevard, Lot 38 behind the Alumni Center, and Lots 40 and 41 at Chafee Avenue and Parnell Street, most of which are supported by our JagExpress shuttle service.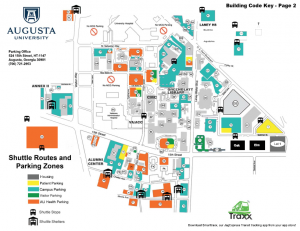 Shuttles run about every 10 to 15 minutes and stop for drop-offs at several designated hospital and campus entrances. For maps of the different routes, visit the Transit System page, where you can also download the PassioGo app for iOS or Android, with which you can track shuttles in real time.
We recommend that you arrive about 15-20 minutes earlier than usual to ensure you have enough time to catch a shuttle or walk to your routine destination.
Please do not park in any AU Health-designated parking lots or hospital decks. Also, please do not park in neighboring lots or spaces of other businesses or medical practices.
We understand that this closure will present challenges for many of you. But the result will be more parking once the work is completed.
If you have a question about the shuttle service or access to a particular lot, please call the main Parking Office line at 706-721-2953.
We appreciate your patience while we work to improve the parking situation on campus.
Thank you.