When Albert Gigar went to visit his brother in Oregon in January 2019, he noticed he was developing an unusual, tickling cough that simply wouldn't go away.
"I wasn't feeling too bad, but I decided to go to the VA Hospital in White City, Oregon, because I wanted to make sure I didn't have anything contagious," Gigar said. "They took X-rays and they found three little tiny spots or small masses on my lung. Nodules, they called them."
The VA Hospital sent Gigar to Asante Rogue Regional Medical Center in Medford, Oregon, for a positron emission tomography (PET) scan of his lungs. The PET scan confirmed he had stage 4 lung cancer.
The diagnosis was unsettling. Gigar, 73, said he knew lung cancer was the leading cancer killer in both men and women in the United States.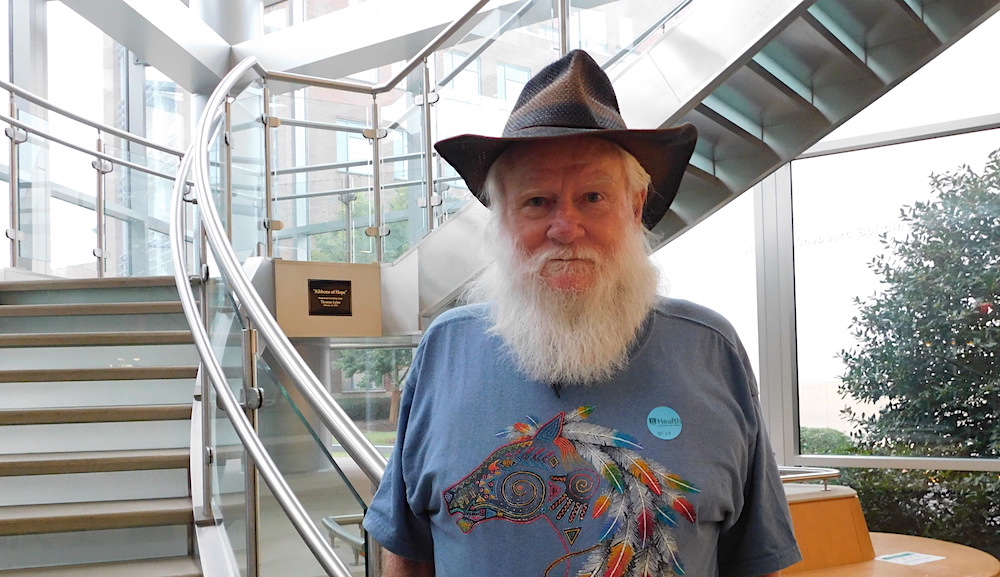 According to the National Cancer Institute, approximately 135,720 people will die of lung cancer in the United States in 2020 and there will be an estimated 228,820 new lung cancer cases in this country this year.
Gigar, a Vietnam veteran and father of two grown children, grew up in southern California. He has spent much of his adult life living in Northwestern states such as Oregon, Arizona, Idaho and Washington. But, a few years ago, he moved to the outskirts of North Augusta, South Carolina, to be close to his daughter and grandchildren.
Instead of staying in Oregon for treatment, Gigar decided to return home to North Augusta to battle his lung cancer.
"I got drafted to Vietnam on June 20, 1967. I still remember the exact date," Gigar said. "I was in the Army for two years and when I got out in June of '69, I wanted to get out of the rat race in southern California, so I moved to Oregon. It's beautiful there. My siblings all live on the West Coast, but my daughter decided to move to the East Coast, so that's why I moved to North Augusta."
When Gigar returned to North Augusta, doctors at the Charlie Norwood VA Medical Center in Augusta confirmed the nodules in his lungs were cancerous and immediately referred him to the Georgia Cancer Center for treatment in the summer of 2019.
Dr. Nagla Abdel Karim, a lung cancer medical oncologist at the Georgia Cancer Center and Medical College of Georgia at Augusta University, diagnosed Gigar with advanced metastatic non-small cell lung cancer. Specifically, Gigar has squamous cell carcinomas of the lungs, which are flat cells that line the inside of the airways in the lungs.
"Squamous cell carcinoma is one of the aggressive types of lung cancers," said Abdel Karim. "And, in Mr. Gigar's case, he also has a heart condition. He was receiving care from our cardiology department, so we were very concerned about the side effects of treatment for his lung cancer with his heart condition, which is very compromised."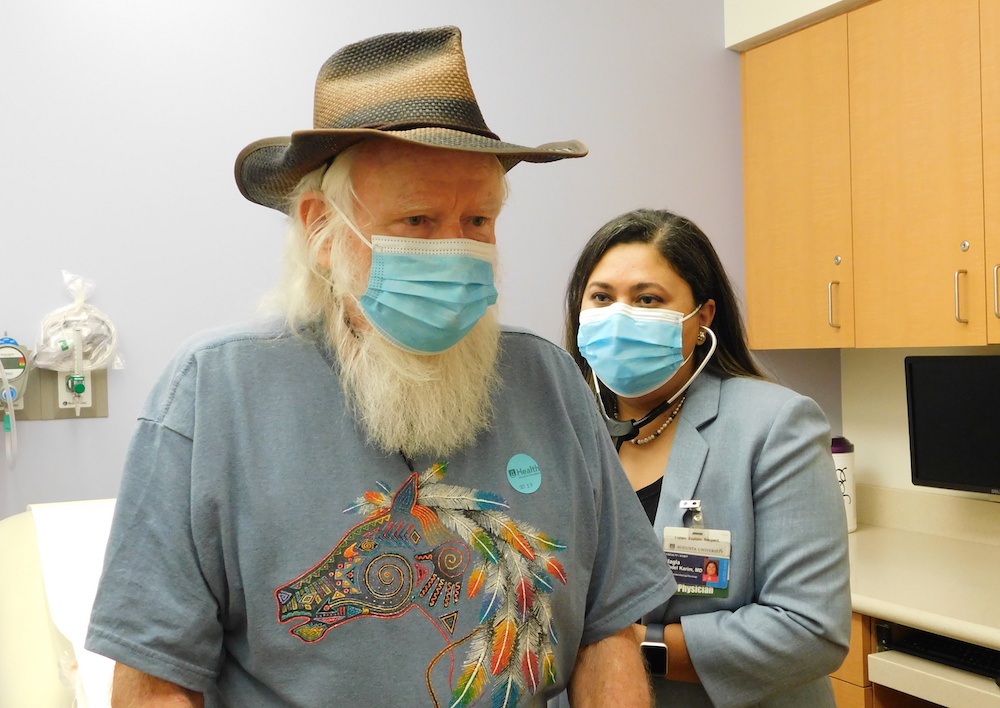 Gigar doesn't just suffer from cardiac disease of the coronary artery. His heart muscles themselves are not very strong, which is uncommon, Abdel Karim said.
"I've treated other patients before with his condition, but it's not very common at all," she said. "I'd say less than 10 patients out of hundreds have this type of problem with their heart muscles."
But after looking at Gigar's test results, Abdel Karim said she needed to act quickly.
"We did not have any other options other than offering chemotherapy plus immunotherapy because the one marker that we have in squamous cell carcinoma is called the PD-L1 (programmed death ligand 1) and it was at 0%, which is not good," Abdel Karim said. "Basically, that meant he didn't have options for other less aggressive types of treatments."
Gigar agreed to fight the cancer head on, as aggressively as possible.
"I decided that I'd rather die of heart trouble than to die of cancer," he said. "I told her, 'Let's do this.'"
Abdel Karim began treating Gigar with pembrolizumab in combination with carboplatin and nab-paclitaxel to battle his metastatic squamous non-small cell lung cancer.
"Of course, we were monitoring him very closely on the days of the treatment with the blood counts and checking on his general condition," she said. "We were making sure we communicated with cardiology and his other primary doctor, so that he wouldn't have any side effects."
While the treatment was aggressive, Abdel Karim said she was amazed by Gigar's results.
"I think he was determined. He had the will to fight," Abdel Karim said. "As a result, he not only had a good response, his response was fantastic. It's really amazing. We can't see his tumor on the scans and he, physically, looks very well. He experienced very minimal toxicity from the treatment."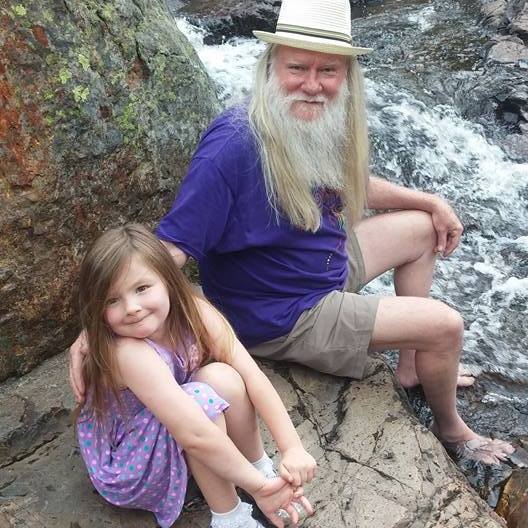 Gigar told Abdel Karim that he is not interested in even taking breaks from the "maintenance, treatment" of the lung cancer.
"Once the tickle cough cleared up, I was fine," Gigar said. "I never did really develop any, what I would say, pronounced symptoms of the cancer. And I don't have any side effects to speak of from it either. So, things got a whole lot better. I've had excellent care at the Georgia Cancer Center. Dr. Karim is a very caring person and she took good care of me."
Abdel Karim said she is beyond pleased with Gigar's progress over the past year.
"He is absolutely doing better than what the books say, because, of course, when we listen to what the books say back in the old days, they say the survival rate with this type of stage 4 cancer is about one year," Abdel Karim said. "We're going on closer to two years now and he is doing well. We don't see evidence of the disease."
Abdel Karim hopes that Gigar's success will inspire other patients at the Georgia Cancer Center who are battling the late stages of lung cancer to never give up.
"I hope we can encourage other patients to stay optimistic and fight," she said. "It's a very hard and difficult disease. We will do our part to treat the lung cancer at the Georgia Cancer Center, but it doesn't stop there. We encourage all patients to take it one day at a time. We need them to keep fighting like Mr. Gigar."
Not only are the physicians at the Georgia Cancer Center thrilled by the success of Gigar's treatment, but his family believes his progress has been miraculous.
"My children keep telling me, 'You'll get through this, Dad. We know you will. You're a real fighter,'" Gigar said. "I can tell you this, I'm not giving up. I refuse to give up."
November is Lung Cancer Awareness Month and brings awareness to the ways we can all strive to improve our lung health. For more information, resources and educational materials about battling lung cancer, please contact Defeat Lung Cancer: Survivors Workshop at the Georgia Cancer Center.