As an African American emergency room physician currently working in New Jersey, Dr. Michele Harper has not only been forced to constantly prove herself to her colleagues, patients and supervisors, but she has also been compelled to take a stand for people of color and women who are often undermined by the medical community.
"Medicine is fraught with racism," Harper said by phone. "We've seen recently in history all the problems with racism in policing. We have the same problems in medicine. And while there are various social determinants of health, such as nutrition, income, environmental conditions, exposure to toxins and where you live, racism is often an overarching factor that contributes to all the rest."
In her 2020 New York Times bestseller, "The Beauty in Breaking: A Memoir," Harper shares her personal struggles growing up in an abusive household, which led her to want to heal others by becoming an emergency room doctor. She also pulls back the curtain on the lives of her patients — people who are often the most vulnerable and in desperate need of her help.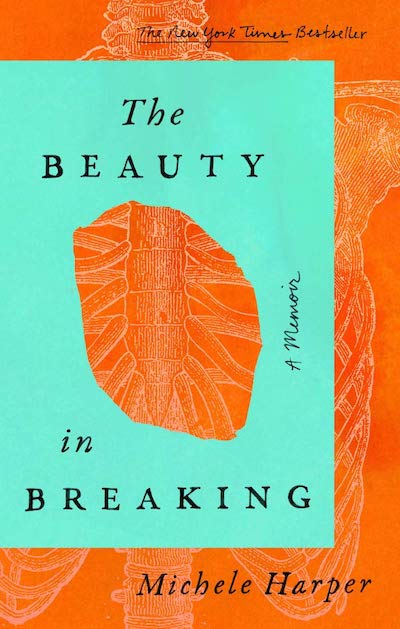 Augusta University has partnered with Augusta Technical College to present a virtual discussion with Harper about the topic, "Racism: Our Most Crucial Public Health Crisis," at 7 p.m. Nov. 10 as part of Values Week. This event is organized by Augusta University's English and World Languages Department, Office of Diversity and Inclusion, Office of Multicultural Student Engagement, Institute of Public and Preventive Health, College of Nursing and Women's and Gender Studies Program.
One particularly powerful chapter in Harper's book centers around a handcuffed African American man named Dominic Thomas, who is brought into the emergency room against his will by four white police officers.
The officers claim the man has swallowed several bags of drugs, but Dominic denies that accusation and refuses to be examined.
After Harper explains the dangers of swallowing bags of drugs to Dominic and warns him that the bags could cause a blockage in his bowels or even leak and result in a heart attack, he still insists he didn't swallow any drugs and refuses an examination.
To the officers' dismay, Harper tells Dominic that she will discharge him.
In the following passages, Harper describes the fury of the officers, even though she clearly knew Dominic's rights as a patient:
Officer Quigley exclaimed, "We brought him here for an examination. You have to examine him. That's the procedure."
"What procedure are you referring to?" I asked.
I didn't accept what the cop was telling me, and I questioned why he felt comfortable instructing me to do anything at all.
"Ma'am, we do this all the time," he said, sighing.
The sigh telegraphed to me that this man, this older, taller, heavier white cop, felt I was both missing a critical point and wasting his time.
"Oh, do you all have a court order for us to examine this man against his will?" I asked, implying that this must surely be the missing piece of information.
"No, but he's under arrest for a crime."
"I do understand what you're saying, but it is against the law to force a medical examination on a competent adult human being. If you don't have a court order, I would be breaking the law to do further medical evaluation on this man against his will. So, if Mr. Thomas does not want a medical examination, there will be no medical examination, because this is his right and this is the law in the entire United States of America." 
Several of her colleagues openly questioned her decision and the police officers called her actions ridiculous as they escorted Dominic from the hospital, Harper writes.
"I looked down at my hands on the keyboard, my slender, dark brown hands, dry from constant washing and dousing with alcohol-based sanitizer between patients. As I noted the contrast of my dark wrists extending from the cuffs of my stark white coat, I was reminded of which costumes in America, even in the twenty-first century, are seen as legitimate and which are not." 
Disparities in health care
 Despite being a graduate of Harvard University and having worked as an emergency room physician for more than a decade at various institutions, including Lincoln Hospital in the South Bronx, where she was chief resident, Harper says she constantly faces such battles simply because of the color of her skin.
"One of the main reasons I wrote this book was to demonstrate our interconnectedness as humans," Harper said. "For me, while it's a memoir, it really is about so much more. It was important for me that this book touched upon common threads in our humanity, in our experiences and challenges. And then hopefully also illustrates ways that we can overcome these challenges. We can not only heal ourselves, but also potentially be a support system for others."
But, first, the medical community needs to acknowledge there is racism in health care across this country, Harper said.
"There is not necessarily consensus in medicine that racism is a problem, but, as an emergency room doctor, I've seen it firsthand. I've seen that certain communities don't have access to care. I've seen patients being refused treatment and patients being treated differently," Harper said. "My clinical work centers around communities that are less financially resourced. Communities that are predominantly Black and Brown with large immigrant populations. And the obvious disparities in health care can't be hidden or ignored."
Even though Harper has lived in several large metropolitan areas with vast medical centers, many minorities living within those same communities never receive the benefits from their nearby quality health care systems, she said.
"In those hospital centers, we have every kind of physician, every specialist and every highly trained provider in these communities, and yet, I often have to refer people out and say, 'Go with God. I hope someone will take care of you once we're done with you in the ER,'" Harper said. "That needs to change."
Racism during a pandemic
Such problems have become even more apparent since the beginning of the COVID-19 pandemic. According to the Centers for Disease Control and Prevention, African Americans are almost three times more likely than white people to contract the coronavirus, six times more likely to be hospitalized as a result and twice as likely to die of COVID-19.
"This pandemic has laid bare disparity, fault lines and weaknesses in our system," Harper said.
"We're in a pandemic where, as a country, people don't have access to health care and we are not taking care of our citizens."
There are millions of frontline workers who are risking their lives each day by going to work and possibly being exposed to COVID-19, she said.
"We have many people whose jobs don't allow them to work from home," Harper said. "People who've always been essential, such as mail delivery people and grocery store clerks, who are now putting their bodies on the front line. Those are the people we're seeing often getting very ill. People who don't have a living wage.
"We depend on them, and we're not taking care of them. So, we're at a critical juncture. We have to decide as a society what we care about and what we value and if we want to take care of people in this country."
But, unfortunately, such change does not come easily, Harper said.
"Medicine, as an institution, is like turning a cruise ship," she said. "It can take time and, typically, more time than is necessary because this comes down to a culture change and accountability. We also need people in positions of power who actually care."
Talking to students about racism
Another key to changing attitudes within the medical community is discussing and addressing the issue of racism with students at the university level.
"There's so much energy and growth that happens in academic centers. In fact, so much of the change happens there," Harper said, adding that it is crucial for an institution to have a diverse staff that feels welcomed and part of a productive campus community. "Again, I typically work in communities that are predominantly Black and Brown, and I am often the only Black doctor there. You wonder, 'How is it possible?' Well, institutions like that need to look at why are they only hiring white people and why Black people are being overlooked for positions."
In her book, Harper writes of an instance when her former department chair at a hospital in Philadelphia informed her that she had been passed over for a position, even though she was more than qualified for the job.
He told her, "I just can't ever seem to get a Black person or woman promoted here. That's why they always leave."
Harper writes that the department chairman had spoken with the "heavy heart of a longtime liberal white man who would shake my hand, smile, close the door behind me, and then sit back down in his comfortable, secure chair."
She was the one left to live with the "limitations of that bigotry," Harper stated.
"He was well aware of what was going on. He played his part," Harper said. "When I trained residents in different hospitals in Philadelphia, many of the Black residents would say to me, 'I'm so glad you're here, but once I graduate, I'm leaving.' They didn't feel supported and this life is hard enough. They had to pick their battles, so they decided to go somewhere else that was more welcoming for them."
If medical institutions across this country hide the fact there is racism in health care, the problem will only get worse, Harper said.
"They must first understand and accept that they are racist and then make the decision that they want to change," Harper said. "And, I will tell you, I've worked at hospitals where they don't want to change, so nothing changes. You have to want to change."
Dr. Michele Harper will be discussing "Racism: Our Most Crucial Public Health Crisis" at 7 p.m. Nov. 10 through the virtual platform, WebEx. This event is part of Values Week at Augusta University. Click here to register and receive the virtual meeting invitation.