Jen Nail enjoys serving others.
"I love working with people," said the James M. Hull College of Business student. "I have experience in customer service and shipping at our home business, making vinyls for Camaros."
So when she discovered an internship through Career Services at Augusta University that involved working with others and improving shipping logistics, she thought it would be a good fit. Jen applied, completed a virtual interview and, a few months later, the business administration major helped create a new operational model for student package deliveries on campus.
"We had been discussing this project for almost a year," said Dale Hartenburg, Chief Auxiliary Officer and AVP of Campus Services. "We knew we needed a better process to handle package deliveries to our housing students."
Since Jaguar Park student housing opened on the Health Sciences Campus in 2016, packages from UPS, FedEx, and the U.S. Postal Service were all delivered to Elm Hall. That created problems for storage until the students could pick them up, and often meant the housing staff had to take on the extra responsibility of storing and distributing high volumes of packages for students.
Augusta University offers a wide range of internship opportunities on campus for students. Handshake, a Career Services tool for students and employees, currently has internship listings posted for audiovisual technical support, employee recognition, medical research, campus parking, volunteer services, student life, media relations, facilities, environmental services, operations, quality control, tutoring and more.
For more information on internships at Augusta University, please contact Career Services at 706-737-1604.
"Another challenge was that Oak Hall student residents did not have badge access to Elm Hall where all the packages were kept, so they had to find someone to let them into the building," said Crystal Ellison, one of several JagStore associates who helped with the project.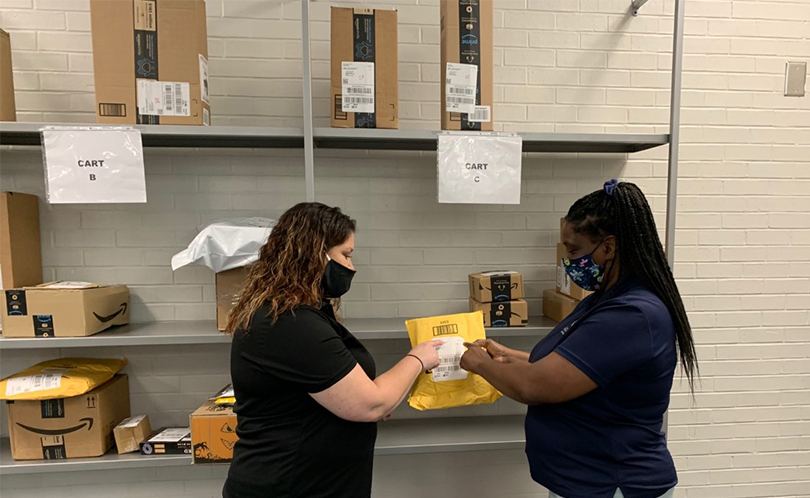 She described the beginning of the transition like this: "They (housing staff) rolled over this big cart and said, 'Here's the packages.' Then housing let the students know to pick up packages here (by the JagStore)," Ellison said. She and associate Stephanie Sturman went through and organized everything on a huge rolling rack and put it in the JagStore stockroom.
"It took some time to get everything distributed, because nothing was on the computer," said Ellison. "It was one big paper trail. We were strictly manual at first. Now we have a computer system, so that has simplified everything."
It was tight quarters at first, with Package Pickup temporarily operating out of a tiny office, and packages taking up JagStore stockroom space.
"We did what we could to start the process, and then we hired an intern from Hull College to help us assess the situation and put together a suitable business operations model," Hartenburg said. "When Scrubs and Beyond moved to Professional Building 1, we moved Package Pickup into that space. It's much larger and convenient to Atrium Dining, the Wellness Center, and the JagStore. Students have to walk past the Student Center to and from the shuttle stop as well."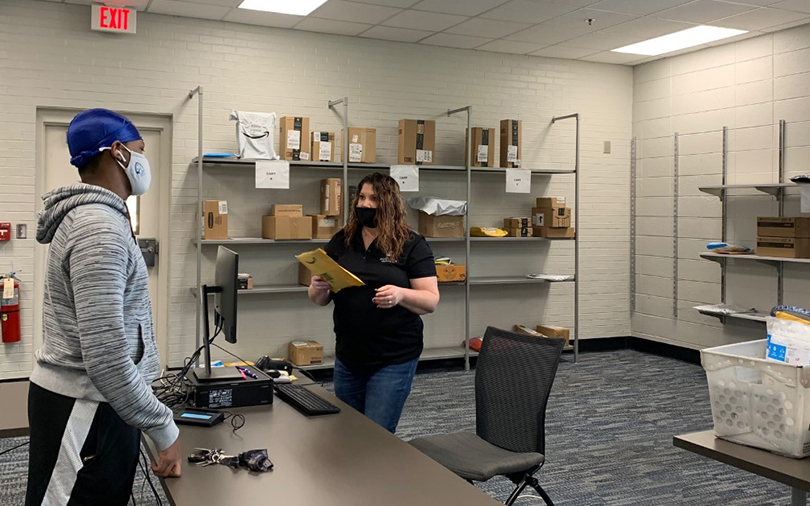 "It was a major transition," said Nail, "but the logistics here have really improved the whole experience for students. We've gotten a lot of positive feedback."
To complete her internship obligations, Nail was tasked with a two-part goal: to develop a business operations manual for running the Package Pickup center and provide feedback on how to optimize future operations by analyzing usage trends.
Nail has already written her first draft of the operations manual. When packages arrive, they are scanned into the computer system, assigned a storage location and linked to the recipient student. Then an email template is activated to notify the student that the package has arrived. An email reminder is sent daily until the student picks up the package.
For pick up, the student must stop by Package Pickup and present their JagCard ID. The student's name is entered in the system to verify that a package is waiting and where the parcel is being stored in Package Pickup. Then the pickup attendant retrieves the box or package from the corresponding storage location and hands off the item to the student.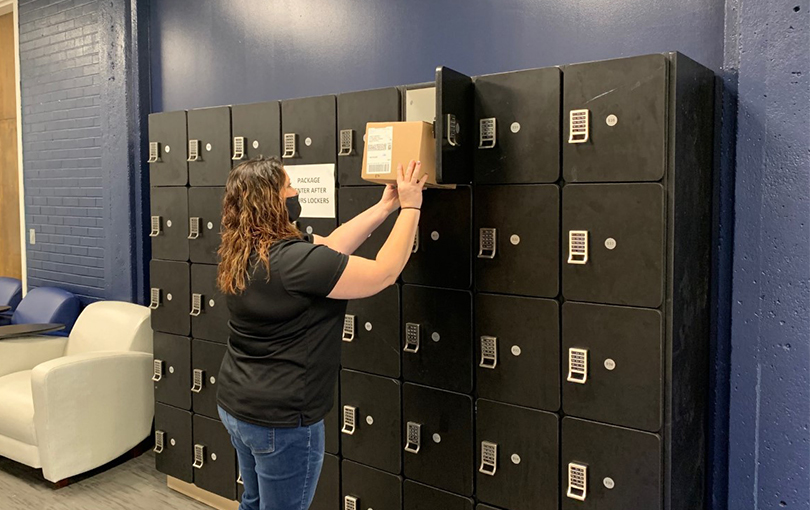 "We average anywhere from 30 to 60 packages a day," said Nail. " … Care packages for students from friends and family, textbook orders, household items and such. We even received a motorcycle frame; well, not the whole thing, but in parts."
And they stay busy. Two students came in to pick up packages in the span of a 20-minute interview with Nail.
With the big shift from in-person shopping to online ordering, brought on by the COVID-19 pandemic, the timing of the Package Pickup project could not have been more appropriate.
Package Pickup is open from 8:30 a.m. to 5 p.m. Monday-Thursday, and 8:30 a.m. to 3 p.m. on Fridays. There are also lockers in place in the Student Center lobby for after-hours pickup. Students are provided a code to punch in to retrieve packages in the lockers if they cannot come to the Package Pickup during regular operating hours.
"They really seem to appreciate what we do here for them," said Nail. "I love working with people, and the students have been so kind and so sweet."
While Package Pickup is staffed by Nail this semester, the goal is to have student employees operate it, with the JagStore staff filling in any gaps.
"The next staff member should be able to come in, read the manual that Jen put together and pick up right where she left off," said Hartenburg.