A presentation at Writer's Weekend became hands-on experience for Dr. Giada Biasetti's Spanish students. One class translated an Italian novel into Spanish, and another wrote a collection of short stories in Spanish.
Both works have been published in one volume, El Misterio de Santa Caterina, and will be distributed for free to local schools.
In January, Biasetti and Italian novelist Frank Iodice presented a talk at Writer's Weekend about translating emotion across languages and cultures.
"The theme (for the weekend) was translation and adaptation," Biasetti said.
She required her foreign language students to attend, and the author later spoke to the class. Based on the presentation, students in her Spanish composition class were tasked with writing an original composition in Spanish based on Iodice's visit. Her translation class was given an assignment to translate two chapters of Iodice's A Perfect Idiot, which had previously been translated from Italian to English.
"What we did in my class — the translation class — is we took the English version of it and translated a few chapters of that book," Biasetti said. "He selected the chapters because he wanted to focus on two of the characters of the book, and he gave us the pages and everything."
The students – a mixture of English-speaking Spanish students, heritage and native Spanish speakers — worked in groups that were given a different section of the project to translate. Later, the sections were combined into a cohesive document.
Iodice worked with the groups throughout the project via document sharing in Box and instant messaging.
"He reviewed the first draft to make sure the content was faithful to the original. I was looking at grammar, he was looking at content more," Biasetti said.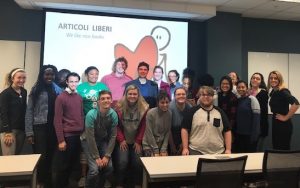 The difficulty in translation goes deeper than language. Literal translations don't work, Biasetti said. In order to be true to the story, a translation has to be idiomatic. That means adding or omitting words that don't work, deciding which cultural references to translate and which to include, and changing images and references that don't work.
"With emotions, one of the examples was, how do you convey the same emotion that an Italian from Naples (because he's from Naples) has when they're walking down the street, and smell the tomato sauce that someone is cooking?" Biasetti said. "The type of emotion that smell conveys to an Italian is different from someone who hasn't grown up at the table eating spaghetti with tomato sauce, which is very family-oriented, and so you have certain memories of your childhood.
"So it conveys all of these emotions and traditions that's hard to do in English, to convey that same emotion. But you have to try your best to make the reader feel like he can actually smell that and associate it with something nostalgic."
Iodice also offered comments and suggestions on the stories produced by the composition class. The book includes the Spanish translation of A Perfect Idiot in front, the short stories in the middle and the English translation in the back. The cover was designed by Venezuelan illustrator Fernando Cobelo and published by Articoli Liberi, a non-profit organization based in south France that distributes books for free to middle and high school students around the world. The book is offered for sale on Amazon, and proceeds will be used to support the organization's mission.
Copies received by Augusta University will be distributed to students who participated in the project and local schools and  foreign language associations, Biasetti said.