Dr. Lara Stepleman, a professor of Psychiatry and Health Behavior and director of the Medical College of Georgia Office for Faculty Success, has been named the inaugural LGBTQ Information Officer for the Center for Patients and Families at Augusta University Health. She will serve as a resource and liaison for patients, families, providers, staff, and hospital administrators to facilitate an inclusive, patient- and family-centered care environment for LGBTQ patients.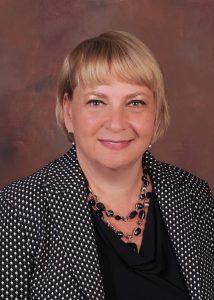 "We believe in giving our best care to every person, on every encounter, and every time," said Julie Moretz, chief experience officer for AU Health. "Dr. Stepleman has more than 20 years of experience in LGBTQ health disparities, including clinical, educational, and research endeavors, and we are confident that she will advocate well for patients and their families in this community."
Dr. Stepleman and her team recently conducted the first LGBTQ health needs assessment in the CSRA, which identifies critical health concerns and needs in this community. As a co-recipient with Dr. James Griffin of the 2018 PFCC IMPACT Award, presented by the Center for Patients and Families, this project was  selected for funding because, as the title states, the project helps with "Fostering an Inclusive Patient- and Family-Centered Care Environment for Sexual and Gender Minorities at AUMC." The $4,500 award will underwrite LGBTQ training to make it available to all staff, providers, and students associated with AU Health System.
Dr. Stepleman is also the current board co-president and director of the Behavioral Health program for the Equality Clinic of Augusta — an award-winning student-led clinic that serves underinsured and uninsured LGBTQ community members.