While he was in Louisiana for his father's funeral, Jason Hasty developed a sniffle. He'd been a little more tired than usual, and assumed it was just allergies. It was March 4, and COVID-19 was becoming more of a worry on everyone's mind.
By March 10, he was feeling more tired, and again blew it off, thinking it was due to traveling. Three days later, he became short of breath and his wife, an employee of Augusta University, insisted he be tested for coronavirus (COVID-19).
The Georgia Esoteric and Molecular Laboratory (GEM Lab) had just developed a test and received approval from the FDA validation on the afternoon of March 15, and Hasty was one of the first six people sampled and tested.
When he arrived for his test outside of the emergency department, he was instructed to remain in his car to reduce the risk of spreading the virus. A health care worker dressed in a hazmat suit met him at the curb near the Emergency Department and swabbed his nose.
"It was kind of painful," he said. "They swabbed each side."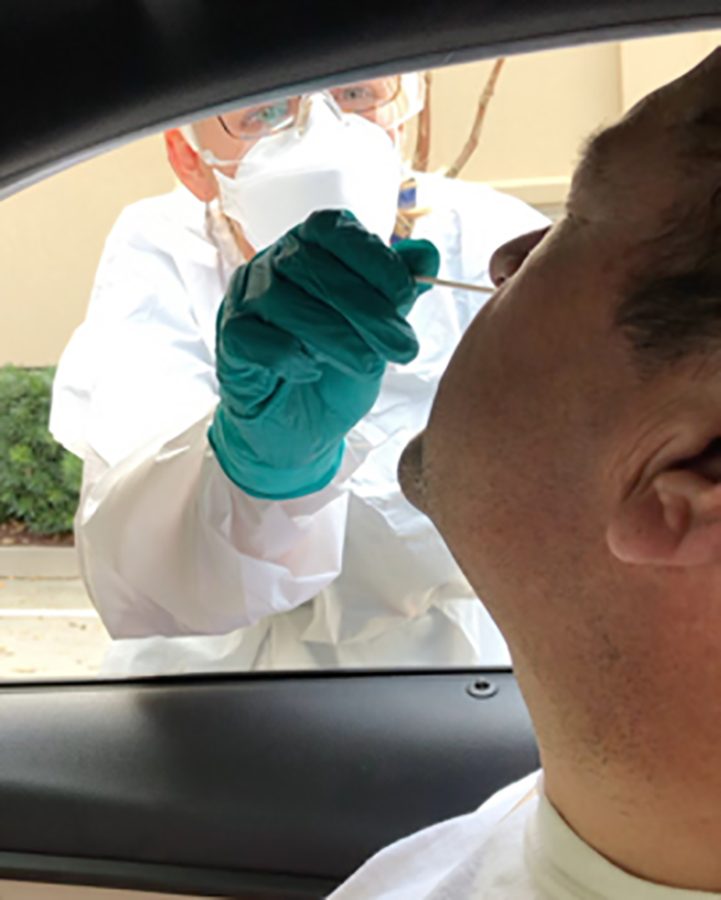 His test, along with that of one other person, returned presumptive positive that evening. (Since then, the FDA has approved private labs for testing and results are no longer dependent on confirmation by the CDC. Because of this, results are no longer labeled "presumptive.")
Due to his diagnosis, Hasty went into isolation at home.
By Wednesday, March 18, the number of positive cases tested by Augusta University Health increased to six and by Friday, 13. Those numbers are are expected to climb in the coming days, as more and more people are tested.
This has led to the need for more sophisticated testing options outside of the hospital, to protect patients inside who are already vulnerable. Earlier in the week, Augusta University launched an app to pre-screen patients to help determine who may need additional testing. By midweek, a drive-thru testing center was established at Christenberry Fieldhouse.  
Those experiencing symptoms are encouraged to first call the COVID-19 hotline at 706-721-1852 or complete the virtual screening on the app.
At the medical center, the emergency department has experienced an increase in patients seeking care for cold or flu symptoms, said Mark Schreiber, director of clinical operation in the emergency department. As symptoms of coronavirus (COVID-19) can be similar to cold or flu, the need arose for screening before patients enter the emergency room, to avoid spreading the disease to those who are most vulnerable.
"As we get more and more COVID-19 cases, we don't want them to go in there," Schreiber said.
On Thursday, the department set up an outdoor screening tent to screen patients who might be candidates for additional coronavirus testing.
"At first, we were swabbing anybody we thought was at risk," said Dr. Amado Alejandro Baez, vice chair (OpMed) DEM and director of the Medical College of Georgia's Center of Operational Medicine. "It was more for an epidemiological surveillance component. Now we're saying we think we're dealing with a community spread."
So as patients arrive at the emergency room, they are greeted at the door by a health professional on a video screen who asks them questions about the symptoms they're experiencing. If they have cold or flu symptoms but do not seem to exhibit symptoms of cornonavirus, they're allowed into the emergency room after using hand sanitizer and putting on a face mask. If they do seem to have symptoms, they will now be directed to the outdoor tent for further screening.
Inside the tent, the patient will be seated at a table and further screened by a physician via video phone to determine if they need to be tested for coronavirus, Schreiber said.
If they don't qualify, they'll be given appropriate discharge instructions. If they do qualify for testing but they can still go home, they will be tested outside of the emergency department or in the ambulance bay. If patients are too sick to go home, they will be taken into the emergency department via a separate entrance.
We're still in the season where respiratory infections are common, Baez said, so before any coronavirus testing is done, the lab will run a respiratory pathogen panel to rule out other causes. If the panel comes back with a positive result for one of the usual pathogens (cold, flu, allergies, etc.), the patient will be treated. If the panel comes back negative, the lab will run a test for coronavirus.
"(The testing process) is changing a little bit," Baez said. "Initially we were sending it to the CDC, then Quest Diagnostics and LabCorp got approval to run them, so we're using the private labs as well. And we are building the capacity to run the tests internally soon."
Keep up with Augusta University's latest news about COVID-19.