Selina Smith, director of the Institute of Public and Preventive Health (IPPH) at Augusta University, has been named president of the Georgia Public Health Association, the state's leading forum for public health researchers, practitioners and students. She will oversee the association, which includes the state's nine schools of public health and its partnership with the Georgia Department of Public Health.  She also serves as editor of the peer-reviewed Journal of the Georgia Public Health Association.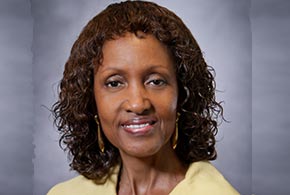 As the American Public Health Association's largest affiliate in the southeast, GPHA organizes events and works closely with legislators to promote, protect and advocate for the health of Georgia residents.
"I am so honored to be named president of such a prestigious organization dedicated to improving Georgia's public health," Smith said. "Not only will this position allow me to further my efforts with health education, but it provides an opportunity to spotlight the work being done in our IPPH at Augusta University."
Smith joined the university in 2013 as director of the IPPH, which is tasked with developing innovative solutions to ensure that Georgia will be a healthy place to live and work for generations. Smith is also a Family Medicine professor in the Medical College of Georgia and a member of the Population Science Program at the university's cancer center.
Smith's areas of interest include translational research, community-based participatory research, health disparities research, cancer epidemiology, and cancer control and prevention.
She earned her bachelor's degree in food and nutrition from Florida State University, a master's degree in nutrition from Florida International University, and a doctorate in human nutrition and food from Howard University. She completed a postdoctoral research fellowship in nutritional epidemiology at the Georgetown University School of Medicine. Additionally, she holds a Master of Divinity degree from Emory University's Candler School of Theology and completed a postgraduate fellowship there, focusing on health, wholeness and healing in the black church.
Smith is a member of the Healthy People 2020 and its Health-Related Quality of Life and Well-Being Workgroup, the American Association of Cancer Research, and the Epidemiology Section of the American Public Health Association. She has served as a grant reviewer for the Department of Defense, the Centers for Disease Control and Prevention, and the National Institutes of Health. Smith is also a member of the National Colorectal Cancer Round Table.
Founded in 2012, the Augusta University Institute of Public and Preventive Health works to improve health outcomes for all Georgians by finding and sharing real-world solutions and resource-preserving, preventive measures. IPPH focuses on five core competency areas of public and preventive health – health management and administration, epidemiology, behavioral health and health education, environmental and occupational health, and biostatistics. The institute also oversees the content published in the Journal of the Georgia Public Health Association.