As researchers and policymakers have worked to grasp and understand the extent to which people are limited in their access to health care depending on where they live, a research team led by Augusta University Executive Vice President for Academic Affairs and Provost Neil J. MacKinnon, PhD, has authored a new study that looks at geographic health disparities in 11 high-income countries.
The study, titled "Mapping Health Disparities in 11 High-Income Nations," was published by JAMA Network Open, marking the third time MacKinnon has been published by the journal.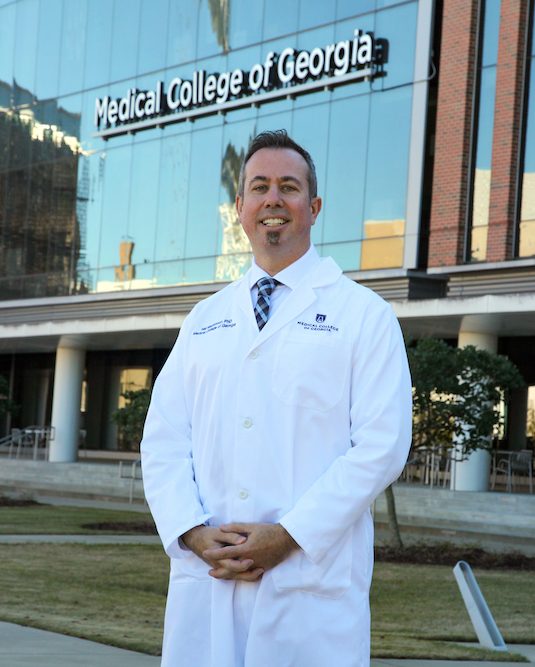 "We looked at the difference in the health care experience of individuals living in rural and urban areas across 11 different countries using 10 health care indicators. What we found there's an average of about two of the 10 indicators where there was a statistically significant difference between urban and rural areas. When you drill down further, the U.S. had the most rural-urban differences, which is not that surprising because the U.S. really stands apart from those 10 other countries, most of which have a national health care system while the U.S. does not," MacKinnon said.
"What our team found surprising was that our assumption was incorrect that rural would be worse across the board. We actually found some instances where rural is a protective factor instead of a risk factor, where things were actually better in rural communities. There is some literature that suggests that patients maybe have stronger relationships with their health professionals in rural communities because they see them as an integrated part of the smaller, more intimate community."
MacKinnon's team included Augusta University researchers Vanessa Emery from the Institute of Public and Preventive Health, as well as Jennifer Waller, PhD, and Preshit Ambade, DrPh, all within the Department of Population Health Sciences of the Medical College of Georgia at Augusta University, and Brittany Ange, PhD, from MCG. They were joined by Munira Gunja from the Commonwealth Fund, a nonprofit health care foundation based in New York City, as well as Emma Watson with the NHS Education for Scotland.
"We're excited because this also ties into some of our international efforts with Scotland through the Converge initiative, looking at rural health," MacKinnon said.
"The Commonwealth Fund funded this study and they provided the data, but even though they conduct this survey every year, they had never looked at what the differences would be between rural and urban areas, and so that's what we did with this analysis."
"People living in rural communities in the U.S. are particularly vulnerable in our health care system and really stand out among rural adults in high-income countries," said Munira Gunja, study co-author and senior researcher for international health policy and practice at the Commonwealth Fund. "They are more likely to have health problems, struggle more to pay for their health care and are less likely to have a regular doctor. International comparisons like these are important because they allow us to learn how we can reduce, or maybe even eliminate, geographic disparities."
The study analyzed results from the 2020 Commonwealth Fund International Health Policy (IHP) Survey, which is a nationally representative, self-reported and cross-sectional survey of adults from Australia, Canada, France, Germany, the Netherlands, New Zealand, Norway, Sweden, the United Kingdom (UK) and the United States (U.S.). The team compared the association of area type (rural or urban) with 10 health indicators across three domains: health status and socioeconomic risk factors, affordability of care and access to care. Logistic regression was used to determine the associations between countries with area type for each factor, controlling for individuals' age and sex.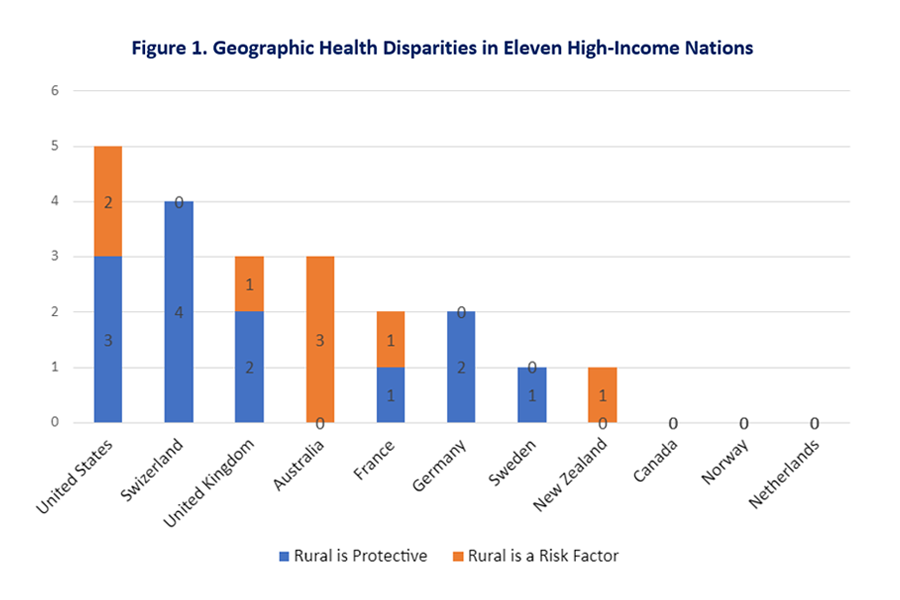 "Two of the countries where we found there were no geographic health disparities across the 10 health care indicators were Canada and the Netherlands. You could be a skeptic and say that in a small country like the Netherlands, would you really find any urban-rural differences, given that even rural areas are located not that far from cities?" MacKinnon said. "However, we found a big difference between Canada, which also had no disparities, and the U.S. Canada's the second largest country in the world and the U.S. is the fourth. Both countries have huge, wide-open areas and yet Canada didn't have the same disparities that we found in the U.S., but our health care systems are very different, so that was a better comparison."
MacKinnon's team looked at 22,402 survey respondents, representing a 14% to 49% response rate, depending on the country.
Across the 11 countries and 10 health indicators, there were 21 occurrences of geographic health disparities; 13 of those where rural was a protective factor and eight of those where rural was a risk factor. The mean number of geographic health disparities in the countries was 1.9. The indicators with the most occurrences of geographic health disparities were in the "access to care" domain.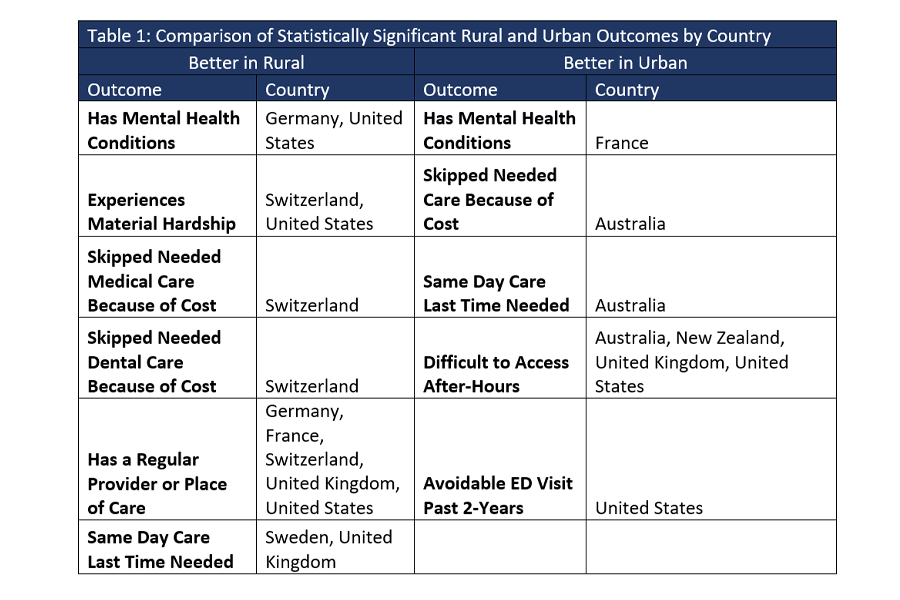 The U.S. had significant geographic health disparities in five indicators, the most of any country, while Canada, Norway and the Netherlands had no significant geographic health disparities, meaning MacKinnon and his team would encourage health policy and decision makers in the U.S. to look to those three countries on how to improve geographic-based health equity.
"I feel Converge coupled with our new School of Public Health is an opportunity for our students and researchers to truly have a positive impact on health care and health policy here in Georgia and the rest of the United States. Population health studies like this where we're using big datasets or other surveys and then looking at what's happening across the entire country is so beneficial."