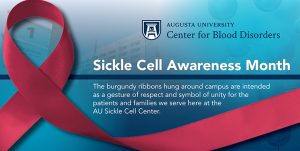 In an effort to raise awareness, burgundy has been selected as the representative color to help shed light on sickle cell disease throughout the area.
Sickle cell disease causes a person's red blood cells to take on a "sickle" shape causing them to stick to the walls of blood vessels, creating a blockage that can slow or stop the flow of blood. The lack of blood flow can create sudden, severe pain in the area of the body where the blockage occurs.
Beginning August 31, the Center for Blood Disorders is hanging burgundy ribbons around campus for the month of September.
Augusta University has played an important role in developing clinical programs and research into sickle cell disease since the 1920s. For more information regarding sickle cell disease or the month of awareness, contact Samantha Scott or call (706)723-0135.