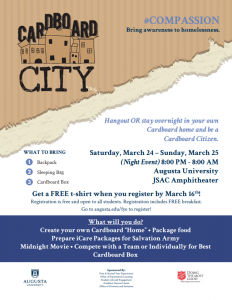 Augusta University's First and Second Year Experiences are inviting you to come and experience what it's like to live on the streets with their event Cardboard City.
This event is an opportunity for students, faculty and staff to raise awareness and learn about the struggles homeless individuals – including children – face every day.
Held in the JSAC Amphitheater and Field, Cardboard City runs from 8 p.m. Saturday, Mar. 24, until 8 a.m. Sunday, Mar. 25.
Activities include creating your own cardboard "home," packaging food, preparing iCare packages for the Salvation Army, a midnight movie and a competition with a team or individually for best cardboard box.
All you need to bring to the event is a sleeping bag, backpack and a cardboard box.
Breakfast is included with registration, and is open to all students. If you register before Friday, Mar. 16, you'll receive a free t-shirt!
For more information email First and Second Year Experiences, call (706)667-4777 or visit their website.