When it comes to experts on murder, Kim Davies, PhD, dean of Augusta University's Pamplin College of Arts, Humanities, and Social Sciences, is the right person to talk with. Davies has written a couple of books on the subject and is a sociologically trained criminologist with an academic focus on homicide and violence.
On the lighter side, unless you've been in her office in Allgood Hall or paid close attention to the nameplate on the Lego display in the Jaguar Student Activities Center, you likely aren't aware she is a big fan of Lego and has plenty of sets to prove it.
Surprisingly, she didn't grow up with them; instead it's a hobby she picked up in the last decade or so.
There is no question Lego Group has seen a resurgence in the past 15 years. There are 10 LEGOLAND parks worldwide, numerous Lego movies have been produced and there have been three seasons of the LEGO Masters TV show in the United States. Lego also saw a big bump in sales during the COVID-19 pandemic when many people were at home with time on their hands.
Davies said that's also when people were taking to YouTube and other social media platforms to show off their Lego skills, which garnered even more attention. That's where she's met members of the Lego community.
"I think it's brought in people who think of themselves as artists but didn't think of Lego as a medium," she added.
There are Lego craft shows around the world, and Davies has attended a few, even showing off her work at times.
She likes building her own creations called MOCS, as well as the sets you can buy off the shelf. The imagination of trying to figure out how to turn blocks into something people might recognize appeals to her. Davies has also met a lot of amazing people from around the world whom she now considers friends, all thanks to Lego.
Twice Davies has visited Denmark, where Lego originated. She also has a Lego set from there, which is the only place in the world you can get that particular set.
"I really like it because it's one of the first Master Builders. Dagny Holm designed Lego to be shown at LEGOLAND, the very first park, which is in Billund, Denmark," said Davies.
Many of the older Lego sets are now retired and will never be produced again, causing the value of them to increase.
Davies has Lego sets around her office in Allgood Hall and is building a garage at her home to better display all she has collected and put together over the years. One of the bigger pieces she's done was to celebrate the opening of the student housing on the Health Sciences Campus. You can see her creation on display in the Jaguar Student Activities Center on the Summerville Campus.
"Somebody let it out of the bag that I built Lego and somebody in Communications and Marketing came to me and said they would love to have a Lego model of the student center. 'Do you think you can do that?' They came on May 14 and wanted it done by June 14, and the building hadn't been built yet," said Davies.
She was able to get all of the blocks needed and went to work using just the architectural drawings. She had to build it in sections to make sure it could be transported to be photographed. Now, it resides just inside one of the doors of the JSAC with its own case and her nameplate attached.
She does have one problem with her finished product. "Every time I see the building, I think the scale is off, because I think the architectural drawing showed it a little longer. I'm going to blame them," Davies said with a smile.
Her Lego models range from a small-scale piano to a tiger, Darth Vader's mask to the White House and even a set from the hit Netflix show Stranger Things. The models can be simple or complex. Recently she picked up a 5-foot-tall Eiffel Tower Lego and the Titanic. Those projects will need to wait until her new space is ready.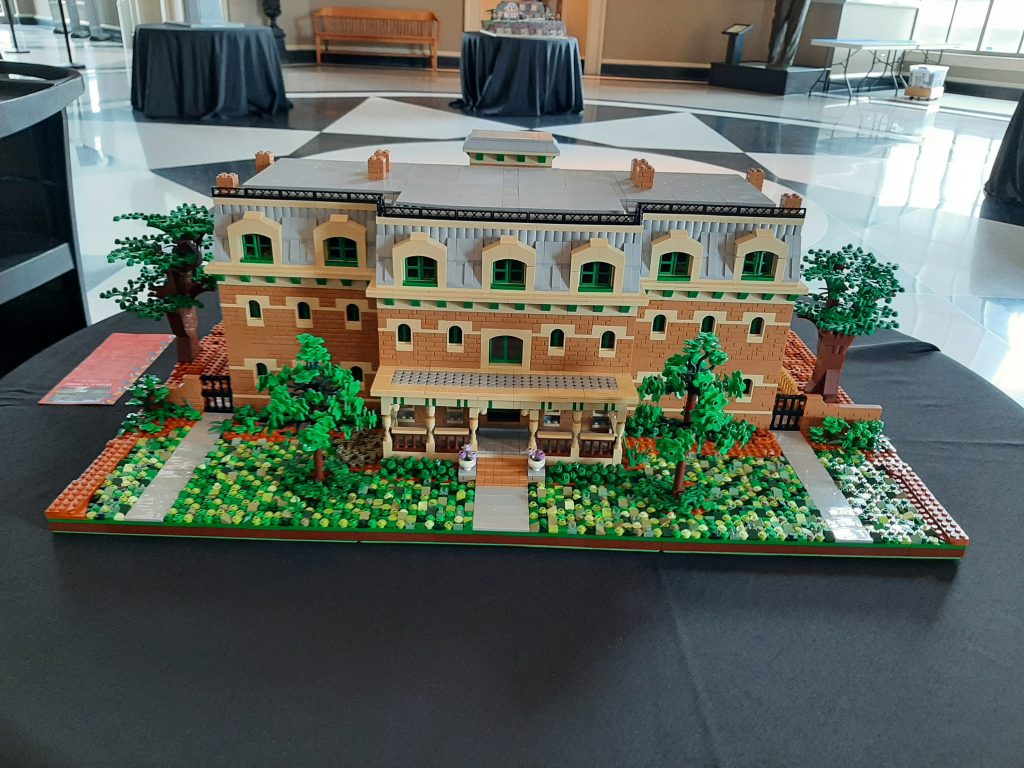 These days, she tries to mix her job as dean with what she's looking to create.
"Since I'm dean of the Pamplin College of Arts, Humanities, and Social Sciences, I try to think about sets that fit the college. I have the Roman Colosseum in this office; I've got the jazz piece in the office; I have stuff that fits with political science. So, things that kind of fit the college are kind of fun for me to have that excuse to bring them to school."
With many sets on display in her office, they usually become talking points for guests, including job candidates.
"It's where I interview all the people I might be hiring for jobs in Pamplin, and usually we have some fun talking about it," she said. "I like to point out some stuff that fits their area. They really seem to like it; they like the whimsy of it, and they realize that obviously I have some fun in Pamplin."