A major car accident can give anyone a scare, especially when one's child is in the car. Precious Lendor knows exactly how that feels. She was driving with her 6-year-old son in a car seat on Sept. 19 when they got into just such an accident.
Lendor and her son, Ah'Vayle Lendor-Kinney, went by ambulance to the Children's Hospital of Georgia because he was in some pain. Thankfully, the doctors determined neither had injuries, due in part to the fact that Ah'Vayle had been secured in his booster seat in the vehicle. Back in 2019, Lendor had taken a course, Safe Kids, which is offered at the hospital by Renee McCabe, a pediatric registered nurse.
Safe Kids is one of more than 400 coalitions in the Safe Kids Worldwide network working to reduce traffic injuries, drownings, falls, burns, poisonings and other preventable injuries, including motor vehicle crashes, which are the leading cause of injury and death to children. McCabe works hand in hand with children's safety experts and volunteers to carry out prevention efforts across the region.
"In our community from 2013-2018, 249 children were admitted to the Children's Hospital of Georgia and only 51 of these children were in a car seat or booster seat," McCabe said. "The good news is that these injuries are preventable and car seats save lives."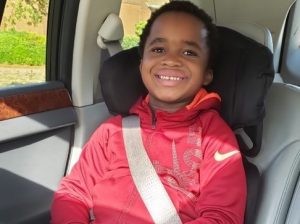 When mother and son checked out of the hospital, Ah'Vayle recalled something he had been told in the ambulance.
"They told him that because he was in an accident, he can't use his car seat anymore," Lendor said.
Ah'Vayle had learned a lot about safety after his mother took the course, so he was concerned as to how they would get home. He asked a nurse and a doctor, and both confirmed that it was OK to use the old car seat temporarily.
"He's only 6, but he takes things into consideration; he understands the importance of safety," Lendor explained.
She promised her son that he would have a new car seat soon.
When Monday rolled around, Lendor drove her son to school that morning. Once again Lendor promised Ah'Vayle he would have a new seat by the time she picked him up.
Lendor knew exactly who to call: McCabe.
That same day, Lendor was able to get a free, brand-new car seat for her son, because she had taken the course. She couldn't wait to show it to her son.
"When I picked him up, he asked if he had a new car seat and I said yes," Lendor said. "He was jumping up and down and happy that he had a new car seat."
Lendor is grateful for the Safe Kids course at Children's.
"That helped out a lot and for [McCabe] to be able to provide me with a car seat the same day. That was terrific," she said. "It lessened the stress of having to go get a car seat, and I was able to just pick one up."
Ah'Vayle remains aware of safety as a result of the class as well.
"His awareness makes me proud and think I'm doing something right as a parent."