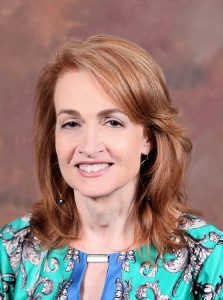 Reneé McCabe, a registered nurse with more than 30 years of experience in pediatrics, is the new coordinator of Safe Kids Greater Augusta, a non-profit organization that works in partnership with Children's Hospital of Georgia to help prevent accidental injuries in children through awareness and education. McCabe was lead coordinator for Safe Kids from 1996 to 2001.
Safe Kids is one of more than 400 coalitions in the Safe Kids Worldwide network working to reduce traffic injuries, drownings, falls, burns, poisonings and other preventable injuries – the leading cause of death in children. McCabe will work hand-in-hand with children's safety experts and volunteers to carry out prevention efforts across the region.
"Being a pediatric nurse, I know that one of the greatest tragedies in life is the serious injury or death of a child," McCabe said. "As the mother of two teenagers, I also understand how difficult it can be to keep them safe. From practicing car seat safety when they're babies to teaching high schoolers the dangers of texting and distracted driving or walking, every stage of life has its own challenges. What a joy it is for me to be an advocate for child safety again."
Safe Kids Worldwide touts a 60 percent decrease in unintentional injury rates among children 19 years and younger since 1998.
"When we talk about unintentional injuries, we're not talking about minor bumps and bruises. Those are common occurrences for a curious child, developing and exploring the world," McCabe said. "But there are things we can all do to ensure that those bumps and bruises don't turn into more disabling injuries or, worse, death. That's why our Safe Kids program is so important to the Children's Hospital of Georgia and the families it serves."
McCabe began her pediatric nursing career at Mott Children's Hospital in Ann Arbor, then moved to Augusta in 1988 to work at the Child and Youth Clinic at the Medical College of Georgia at Augusta University. Other positions in Augusta include nurse educator and neonatal intensive care unit nurse at University Hospital and pediatric rehabilitation nurse clinician at Walton Rehabilitation Hospital. Most recently McCabe was a child and adolescent psychiatry nurse at Serenity Behavioral Health System.
She received a Bachelor of Science degree in nursing, cum laude, from the University of Michigan in Ann Arbor. She also earned a legal nurse consultant diploma from Kaplan University in Boca Raton, Fla.
To find out more about local Safe Kids programs, call 706-721-7606, or visit augustahealth.org/safekids.