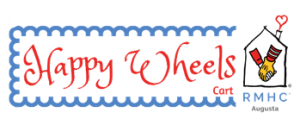 Contributed by Ali Hale.
Officials with Ronald McDonald House Charities of Augusta will be unveiling their Happy Wheels Cart at 10:30 a.m. Monday, June 12, in the lobby of the Children's Hospital of Georgia. This cart, which is about as tall as four red wagons, will be stocked with snacks, toys and other items to help make the stay brighter for pediatric patients and their families.
The Happy Wheels Cart will be rolled door-to-door by hospital volunteers throughout the five-story children's hospital every Monday starting at 10:30 a.m.
For more details, please email Kristina Baggott or call 706-840-2617.