Jordan Knoefler always knew he wanted to be a doctor.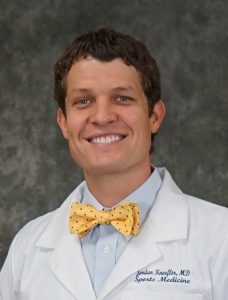 But a career in medicine became his calling, he says, while sitting in an emergency room late one night, watching the flash of ambulance lights from the window and waiting. Soon, doctors would deliver the heart wrenching news – his sister was dead.
"It was unexpected," he said. "After she died, I really felt like I wanted to do something different. That experience really showed me the meaning of life and that you really only live once."
He was determined to make helping people through medicine his life's focus, he says.
While Knoefler's path to medicine started through personal tragedy, his journey to practicing sports medicine in Albany likely began when he participated in a summer program sponsored by the Southwest Georgia Area Health Education Center during college.
One summer in the Pathway to Medical School program at Phoebe Putney Health System in Albany provided him and other undergraduate students from rural Georgia the opportunity to complete a four-week residential experience in the hospital's Family Medicine Residency Program. Knoefler was one of 10 applicants selected for the 160-hour summer enrichment program.
"You rotate with doctors and participate in research," he said. "They introduced me to people on the acceptance committee for the [Medical College of Georgia], Emory, Morehouse and the Philadelphia College of Osteopathic Medicine."
After completing one summer in the program and graduating from Columbus State with his bachelor's degree, Knoefler was accepted to MCG. When it was time to decide where to spend his clinically-intense third and fourth years of medical school, he says choosing the Southwest Campus, based in Albany at Phoebe Putney, meant he could finish medical school without even really leaving the place he considered home.
"Deciding to do the satellite campus turned out to be a phenomenal opportunity," he said. "It was close to home and offered an incredible education with hands-on training and experience."
The fact that students at the Southwest Campus complete clinical rotations at sites in some of the state's most medically underserved areas, including Tifton, Cordele, Valdosta, Albany, LaGrange, Americus, Thomasville and Columbus, gave him an important understanding of the challenges faced by rural Georgians, he says. After medical school, he completed a family medicine residency in Columbus and a sports medicine fellowship at McLennan County Medical Education and Research Foundation.
And then he returned to his roots.
"I see a lot of health care disparities," he said of his sports medicine practice at Phoebe Orthopedics of Albany. "There is a huge gap between income, an ability to pay and insurance."
When patients lack insurance, it can be difficult to treat something as simple as knee pain, he says, because patients know it's not life threatening and because it's hard for them to buy medicine or eat healthier when financial resources are strained.
Knoefler says he works to educate his patients, helping them make better decisions about their health and their treatment plan.
"I give them worse- and best-case-scenario," he said. "I say here's what we can do. We can potentially send you to surgery, or we can do conservative management, injections, home exercises, activity modification and physical therapy."
Knoefler also says his experience in residency and fellowship influenced his care philosophy of non-opioid treatment for chronic pain.
"I realized when I was doing non-surgical orthopedics, people were getting better," he said. "I'm seeing an athlete with knee pain and within a month, I'm not having to see [them] again because they're better. I can see how if I were to prescribe pain medicine for their knee, it could have created a snowball effect of them needing the medicine. Months later they request medication because it's treating the pain, not the underlying problem."
The ability to make people better over time and the variety of care issues he sees are two of the reasons Knoefler says he chose primary care sports medicine, instead of surgical orthopedics. Unlike orthopedic specialists who focus on a particular bone or joint, Knoefler is a generalist, diagnosing and treating patients with all types of musculoskeletal problems.
Knoefler says his work differs from some others in primary care specialties. Like most, he sees patients in clinic, but his after-hours responsibilities are unique. Instead of responding to late-night phone calls, Knoefler spends his evenings on the football field treating sports injuries – helping people through medicine and doing what he became determined to do as that high schooler, sitting in an emergency room, watching the flash of ambulance lights from the window.