In her four years at Augusta University, honors student Shubhra Rajpurohit has accomplished a lot. More importantly, though, she's discovered her passion: research. Her path to research, however, is what some may consider unconventional.
Instead of moving toward the lab from the sciences she was studying, the senior cell and molecular biology major got there thanks to Dr. Rhonda Armstrong, chair of the Department of English and Foreign Languages, and her honors English class.
"Dr. Armstrong suggested that we do more than just write research papers," Rajpurohit said. "She encouraged us to present our in-class research paper at an Augusta University honors conference. I was interested in learning more about the science I was writing about, so I started looking for research opportunities."
Since high school, Rajpurohit has been fascinated with ophthalmology. That fascination, partnered with the encouragement from her English professor, led Rajpurohit to Dr. Manuela Bartoli, professor and director of research in the department of ophthalmology at the Medical College of Georgia and the James and Jean Culver Vision Discovery Institute at MCG.
The institute's mission is to engage in research related to visual function and disease. Outcomes are expected to have far-reaching clinical applications for patients-suffering from blindness and visual disorders. Rajpurohit has found purpose in this mission.
"The research I do is on the vision of premature babies," she said. "We're trying to find biomarkers for diseases, such as retinopathy of prematurity, to prevent blindness. Giving vision to someone or being able to find out what's going wrong gives me inspiration to keep working."
And keep working she has. Rajpurohit has attended 11 conferences, published one paper in a peer reviewed journal, participated in The Graduate School's Summer Student Training and Research program and the Center for Undergraduate Research Summer Scholar program and had the opportunity to share her research with the Board of Regents.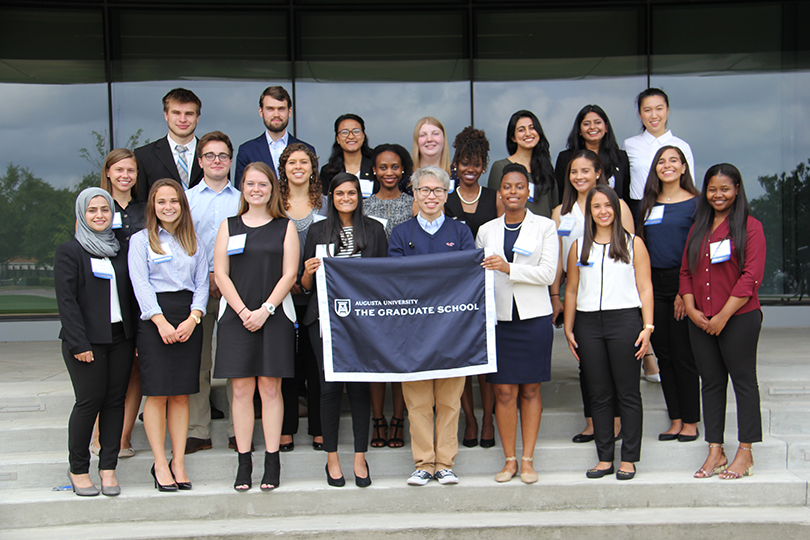 Of the 11 conferences she's attended, Rajpurohit's favorite was one of the first conferences she attended, the Association of Research in Vision and Ophthalmology conference. She presented a poster at the conference and was one of the only undergraduate students in attendance.
"I met so many people who are pioneers in the vision field," she said. "They were impressed by my presentation, and a couple of people complimented me. This conference was the highlight of my undergraduate career, and I was happy that I got the chance to make my mentor proud."
Rajpurohit's research and poster presentations culminating in a publication in a professional journal was a dream come true. The cherry-on-top, though, was when that publication was cited by other researchers five times within a year, making it a high impact publication.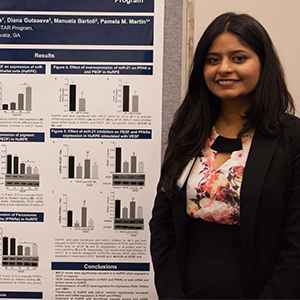 "When I initially saw my name on a large-scale publication, I was so proud," she said. "I couldn't believe my work was published and that other people were citing my work in their own research. It made me feel like I'm contributing to science and making a small impact."
This impact is what drew the attention of the Board of Regents, and Rajpurohit had the opportunity to share her research with the group when they met at Augusta University.
"It was incredible that all of these people wanted to listen to what I was doing, and how I've grown as a student," she said. "It made my family and I so proud. There are times that I spend hours in the lab, and I sometimes find myself wondering if it's worth it. When I got to share my story and people were willing to listen, I realized that all the hard work is worth it."
Rajpurohit graduates in May. She's currently working on publishing a second peer reviewed paper and planning for what comes next: medical school, hopefully at the Medical College of Georgia. Rajpurohit hasn't decided what field of medicine she would like to pursue yet but is leaning towards ophthalmology.
She encourages Augusta students to step outside of their comfort zone and explore everything Augusta University has to offer. Along the way, students may discover their passion and a new home.
"I found a second home in Dr. Bartoli's lab and hope that other students find their place here as well," she said. "Dr. Diana Gutsaeva and Dr. Menaka Thounaojam really contributed to my experience and taught me many lab techniques and the norms of a graduate level research laboratory."
Rajpurohit urges students to discover the opportunities Augusta University has to offer.
"Reach out to professors," she said. "They're so passionate about their research and would love to have students and welcome their contribution. It doesn't matter what your passion is, there is someone doing research on it. So, don't be afraid to step out of your comfort zone and approach professors. Once you become part of their research team, you will realize that your experience at Augusta is bigger than a classroom, studying and taking tests."