Dr. Renad Abu-Sawwa is sharing her art for the first time during the January Healing Arts exhibition at Augusta University Medical Center.
Abu-Sawwa is a pediatric pharmacist at the Children's Hospital of Georgia and a clinical assistant professor at the University of Georgia College of Pharmacy.
For Abu-Sawwa, art has always been a cathartic form of expression in a world of beauty. Therefore, she strives to share the healing power of art with others to ignite their own catharsis. As her artistic muse Claude Monet stated, "Every day I discover more and more beautiful things. It's enough to drive one mad. I have such a desire to do everything, my head is bursting with it."
"The Healing Arts program exists to create an environment that supports and comforts patients and families," said Julie Kneuker, coordinator for volunteer services. "We understand that providing excellent patient care means treating more than just physical symptoms. It also addresses the emotional needs of patients and families by integrating visual art experiences into the healing process."
Over the years, Abu-Sawwa has inspired patients on their journey of self-expression by volunteering her time with institutional arts programs as well as teaching students about the healing power of art in self-care.
This gallery is composed of artwork that gives viewers a glimpse of her impressions of the world. Her artwork symbolizes her perceptions through bold colors and bursting textures juxtapositioned with the softness and delicacy of rose-colored lenses.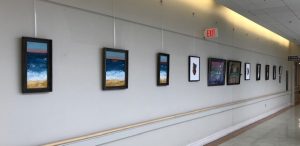 Abu-Sawwa's art can be viewed and purchased on her webpage. Commissions are available upon request.
The full exhibition is located on the second floor of Augusta University Medical Center on the way to the Children's Hospital of Georgia.
The Healing Arts program is organized through the Office of Volunteer Services & Community Engagement to display work by local artists. Abu-Sawwa's exhibit will be on view until the end of the month.
Kneuker adds that each month, the work of a new artist will be featured in the space.
"The end result is a more inspirational and supportive environment for our guests," Kneuker said.
To submit your artwork for display at AU Medical Center, please contact Julie Kneuker or call (706) 721-3596.