"Paging Dr. Ballard," a new local health and wellness segment, featuring Augusta University's Dr. Jedidiah Ballard, debuts during the 6 a.m. morning news Wednesday, Nov. 16 on WRDW-TV News 12 and WAGT-TV.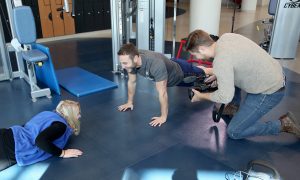 Ballard, who was recently named Men's Health magazine's Ultimate Guy 2016, will provide advice on exercise and nutrition every Wednesday morning aimed to help viewers set better health goals.
"I'm really excited about the new segment," Ballard said. "It's been fun working with the TV folks on this project, and I hope these tips on healthy eating and exercise will help people make positive changes. This is why I became a doctor… to help people live healthier lives."
Autographed copies of the November issue of Men's Health magazine featuring Ballard on the cover are now on sale in the Jag Store on the Health Sciences Campus in the Student Center.