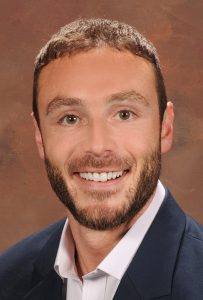 If your New Year's resolutions include a healthier lifestyle, then here's a little help from one of our own.
Augusta University's Dr. Jedidiah Ballard – the 2016 Ultimate Men's Health Guy – provides health and fitness tips every Wednesday on WRDW-TV News 12 and its sister station WAGT-TV NBC 26 Augusta.
In case you missed any of the "Paging Dr. Ballard" segments in December, you can access them by clicking on any of the topics below.
Wednesday, Dec. 28
Paging Dr. Ballard: Best Butt Workouts
Wednesday, Dec. 21
Paging Dr. Ballard: Guilt-Free TV
Wednesday, Dec. 14
Paging Dr. Ballard: How to Prepare for Holiday Parties
Wednesday, Dec. 7
Paging Dr. Ballard: Handling Your Sugar Intake
Wednesday, Nov. 30
Paging Dr. Ballard: Ways to Stay Motivated for the Gym