AUGUSTA, Ga. – Augusta University's Dr. Jedidiah Ballard was named the 2016 Ultimate Men's Health Guy by Men's Health magazine during this morning's live broadcast of the NBC Today show. Editors were looking at a combination of overall health and fitness, as well as service to community and others, and Ballard rose to the top.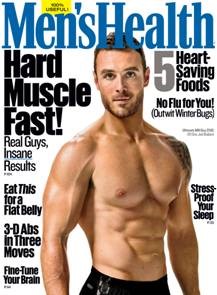 The assistant professor of emergency medicine for the Medical College of Georgia will be featured on the cover of the November issue, which goes on sale Tuesday.
"It feels unreal," Ballard said from his hotel room in New York, "The whole experience has been like a dream, and I feel like I need to pop back into reality any time."
Ballard said his phone has been "blowing up" with texts, Facebook posts, and calls of congratulations from many well-wishers. But he won't have much time to celebrate, since he's flying right back to Augusta for a full day on Friday, beginning with teaching MCG students in the afternoon and followed by a late shift in the ER.
The Columbia Falls, Montana, native entered the contest on a whim, and made it through several elimination rounds, landing in the 100 quarterfinalists, the 10 semifinalists, and the final three.
This year's contest, presented by Isopure and Jockey, drew 700 impressive entrants who embody selflessness, grit and triumph, according to Men's Health magazine editors.
You can read more about Ballard in the November issue of the magazine and at menshealth.com.