On June 16, 2019, Augusta University will deploy OneUSG Connect, a University System of Georgia initiative that provides a consistent platform and approach to human resources and payroll policies and overall workforce management across the entire University System of Georgia. Over the past several months, cross-functional teams have worked closely with the system OneUSG project team to prepare for this transition.
With the implementation of OneUSG Connect, the university is upgrading from PeopleSoft version 9.1 to version 9.2, which will change the way university faculty and staff access HR and payroll information. However, given our familiarity with PeopleSoft, this should be a smooth transition. A more noticeable change is that TimeNet will be replaced with PeopleSoft 9.2 Time and Absence management tools, which will alter how university faculty and staff request and record leave time, as well as how bi-weekly staff will clock in and out each day.  (This change does not apply to employees of the health system, medical center, medical associates or Roosevelt Warm Springs.)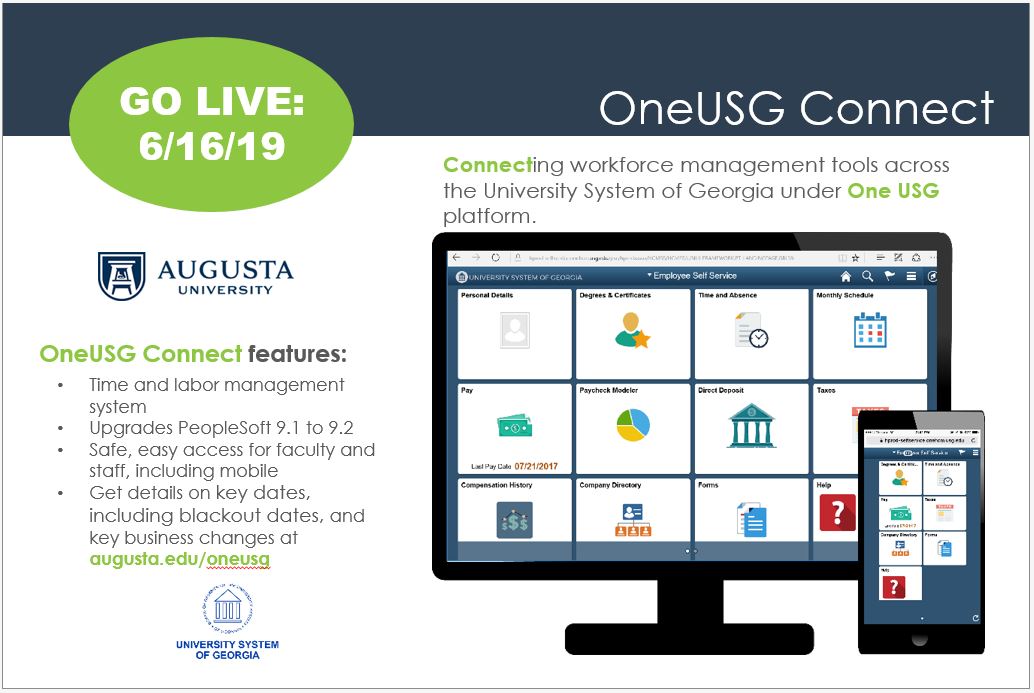 Most notably, the university will experience blackout periods (noted as downtime on the Key Dates section of the website) for both our Finance and Human Resources systems in late May and June as we prepare to implement OneUSG Connect. To minimize the impact of these blackouts, leaders in Finance and Human Resources have identified key dates for this to occur. These dates are listed on the OneUSG Connect website, where you will also find more information on the OneUSG project.
To provide university employees with additional information on the OneUSG Connect implementation, employee forums are scheduled on the following dates and times:
[table id=19 /]
Please also look for additional communications regarding OneUSG Connect over the next several weeks, including training opportunities.
Thank you for your attention and your patience as we work together through this major transition in university operations.