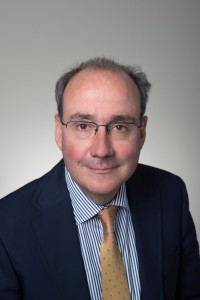 Dr. James L. Olds, Assistant Director for the Directorate for Biological Sciences (BIO) for the National Science Foundation, is the keynote speaker for the 2015 Hooding Ceremony of the Medical College of Georgia at Georgia Regents University.
More than 200 of Georgia's newest physicians will participate in the ceremony, planned for 2 p.m. Thursday, May 7, at the Augusta Convention Center on Reynolds Street.
BIO supports research that advances the frontiers of biological knowledge, increases our understanding of complex systems, and provides a theoretical basis for original research in many other scientific disciplines.
Olds served as Director and Chief Academic Unit Officer at the Krasnow Institute for Advanced Study at George Mason University for 15 years prior to his appointment at the NSF. The Decade of the Mind project, an international initiative to advance scientific understanding of how the mind and complex behaviors are related to the activity of the human brain, was begun under his leadership at Krasnow. That work helped shape President Obama's BRAIN Initiative.
He is Chair of the Molecular Neuroscience Department and the Shelley Krasnow University Professor of Molecular Neuroscience at George Mason University. From 2010-11, and from 2013-14, Olds was Chair of GMU's Neuroscience Advisory Council. Since 2005, he has served as Editor-in-Chief of The Biological Bulletin, which is published by the Marine Biological Laboratory in Woods Hole, Massachusetts.
Olds serves on numerous private and public boards and has played a central role in scientific public policy development at all levels, ranging from the Commonwealth of Virginia and the White House to advising heads of ministries internationally. He spent eight years as Chair of Sandia National Laboratory's External Cognitive Science Board. In the non-profit world, Olds was Treasurer of Americans for Medical Progress.
Prior to his leadership role at Krasnow, Olds was the CEO for the American Association of Anatomists. He received his undergraduate degree from Amherst College in chemistry and his doctorate from the University of Michigan in Ann Arbor in the field of neuroscience. His postdoctoral research at the National Institutes of Health led to advances in understanding the molecular basis of learning and memory, and he received the NIH Merit Award in 1993.
The hooding ceremony signifies a scholarly personal achievement. Graduated members (senior leaders, faculty, and special hooders) of the profession place the hood on the student as a symbol of their passage from student status to graduate status. The hoods of the Medical College of Georgia are worn proudly with silver, blue, and red as well as the color of medicine, green.