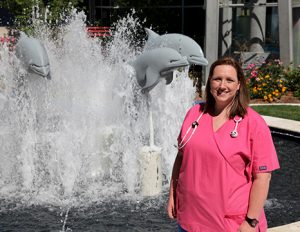 Samantha Hughes is the charge nurse in the Children's Hospital of Georgia's emergency department. She helps to manage the nurses, EMTs and clerks on the pediatric side of the emergency department. Samantha is the lead-by-example kind; during busy times, she jumps in and helps her co-workers.
"Samantha Hughes advances the power of our patients by being a positive mentor to nursing students and new employees," said Tracie Sowinski, nurse manager of the emergency department. "She also supports patient- and family-centered care in any way that she can, including but not limited to conducted patient call backs. She has a positive attitude and always embraces change."
The Nursing Specialty Awards are given each year during Nurses Week based on nominations. For a list of nominees, click here.