For Augusta University Health nurses Lacey Dorn and Brooke Regan, the biggest challenge of working in oncology is managing the emotions from patient to patient.
"We often have hospice patients on our floor, so it's challenging when a patient passes away and I'm providing comfort to the mourning family, and then I have to go into my next patient's room and put on a positive attitude for them," said Dorn, who is a registered nurse as well as an oncology certified nurse. "It is also challenging when I grow close with patients and see them get a poor diagnosis or learn that the treatment isn't working.
"Oncology patients grow on your heart, and I think about them often, so just learning how to not take everything home with me constantly is challenging."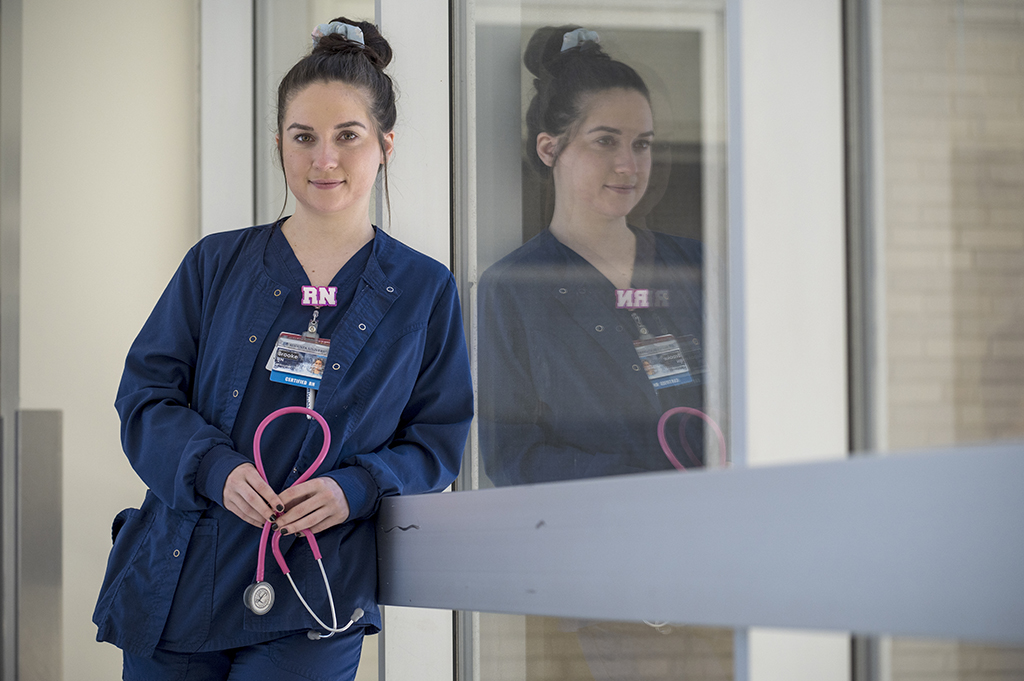 Regan, who is also a registered nurse, has worked at AU Health since 2017. She said she still remembers the night she lost her first patient.
"While over time we learn how to cope better, the loss never gets easier," Regan said. "The emotional connections we build with these patients and their families, oftentimes the loss devastates us as if we've lost a friend or family member of our own. I've held the hand of a wife saying goodbye to the love of her life and I've sat alone at the bedside and talked to a man as he transitioned from this life to the next when his family couldn't be with him.
"There has been so much heartbreak and loss in my four short years of oncology nursing, and these losses really change and humble you as a person and force you to realize just how precious life really is."
Dorn has worked at AU Health for 11 years, spending her entire career on 5 North. She said oncology was never on her radar for jobs, but 5 North was the first unit to offer her a job.
"That first year as a new nurse, I quickly fell in love with oncology. Frequently seeing the same patients makes them grow on your heart quickly," Dorn said. "Celebrating their victories and being there to walk with them through their toughest moments is rewarding."
Regan started working in oncology immediately after nursing school, which was the same unit she interned with while finishing nursing school.
"I really didn't know what route I wanted to go after nursing school … I interviewed in a few different areas and just felt comfortable with the people that I met while touring the unit," she said.
Regan and Dorn both love their jobs and said they enjoy being able to wear many different hats throughout their days. They have worked with post-op patients and those receiving chemotherapy or bone marrow transplants. Dorn said her unit "is a floor where you use all of the basic nursing skills. It is a great place for a new graduate to start out."
Regan has worked as a charge nurse and served as chair of the Unit Based Council. She currently serves as co-chair of AU Health's Bone Marrow Transplant Unit Patient Satisfaction Committee, in which staff and volunteers create activities and provide items for patients and their families to make their hospital stay as pleasant as possible.
"It's not just about giving medications … We become counselors, physical therapists, respiratory, dietary, etc.," Dorn said. "We have a wonderful team on 5 North, and I'm forever grateful for my physical therapists, respiratory therapists and environmental services; however, these specialty teams aren't always available. As the nurse, I am the frontline person that has to deal with each situation and multitask to ensure that each patient's needs are met."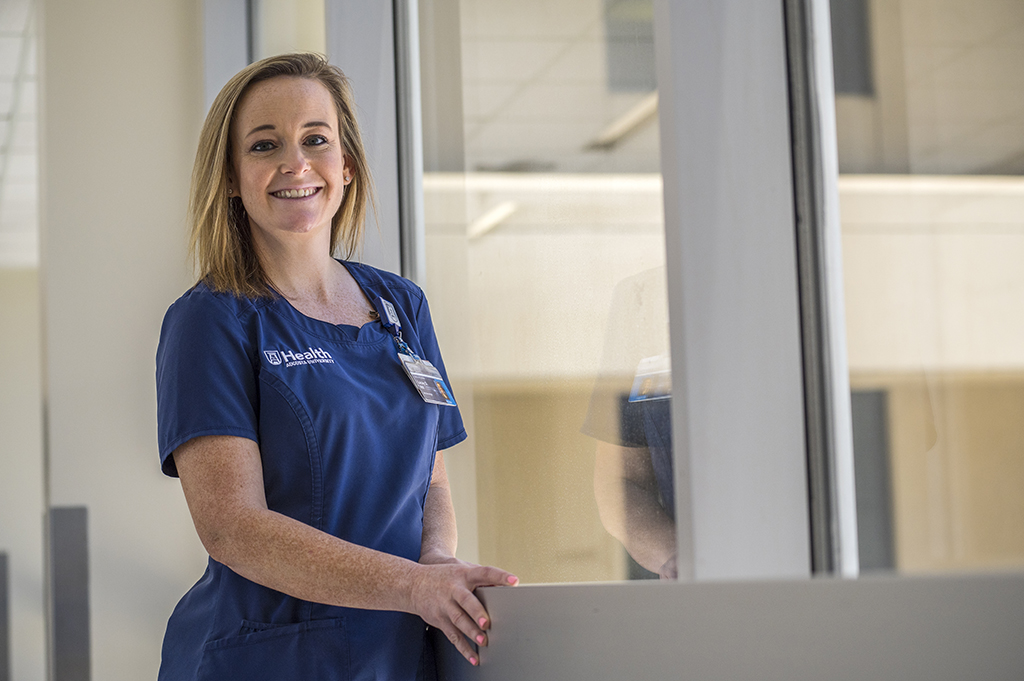 Regan added she feels fortunate to be able to assist patients and families at a crucial time in their lives.
"In most cases, a cancer diagnosis is often one of the most-life altering and traumatic events a person goes through and as an oncology nurse, we go on this journey step by step with our patients," Regan said. "Oftentimes, these patients have extended hospital admissions where they are unable to see their family — this was especially hard during the first few months of COVID, where no visitors were allowed at all — and it's not long before we become like family to them and them to us.
"I've even joked with some of my patients before that I get to see them more than my own mother or father and honestly, it's a huge blessing that we're able to have this connection with these patients and their families as we cheer them on during the fight of a lifetime."
Regan and Dorn said the victories range from cheering for patients in remission, walking with patients in the halls for the first time after surgery and ringing the chemo bell at the end of treatment.
"I love when previous patients come up to our floor to visit the staff. Just seeing them doing so well makes my heart happy," Dorn said. "Seeing these victories has grown my faith in God and made all the bad days worth it. I'm so thankful to be a part of making a difference in the oncology world."
Those are the moments that motivate the oncology team, Regan said.
"The cherry on top is when a patient is able to ring the bell at discharge," Regan said. "This represents the end of treatment for our patients and there's nothing like hearing that bell ring as an oncology staff member. We all stop what we're doing to gather and watch as a patient rings the bell to celebrate how far they've come and there's rarely ever a dry eye in the room.
"This victorious moment is a reminder to me as an oncology nurse that while the losses may be devastating, they make the victories that much sweeter and ultimately, motivates us all to keep going."