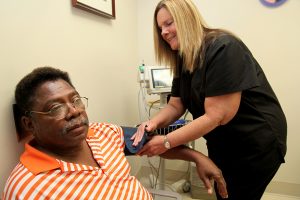 Paula Chambers is recipient of the 2016 Nursing Specialty Award.
Chambers is the charge nurse in the urology practice site and treats patients with prostate cancer and hypogonadism, among other conditions.
"Paula advances the power of our patients by going above and beyond to ensure our patients are well informed," said Sandra Oglesby, practice site coordinator of surgical subspecialties at Augusta University Health. "She often stays late after clinic to reach patients who work during the day with lab and radiology results. She is kind, caring and compassionate and truly exemplifies the power of nursing to make a difference."
The Nursing Specialty Awards are given each year during Nurses Week based on nominations. For a list of nominees, click here.