The American Nurses Association is celebrating nurses for the entire month of May. Globally, the nursing profession is celebrating a milestone in 2020, as the World Health Organization declares it the International Year of the Nurse and Midwife in honor of the 200th anniversary of the birth of Florence Nightingale.
In 2001, Michael Richards moved in with his mother to help take care of his grandmother, who had multiple sclerosis.
He helped her with her daily living, which included bathing, dressing and changing her to fixing her hair, preparing her dentures and moving her from one chair to another. In other words, whatever was needed of him.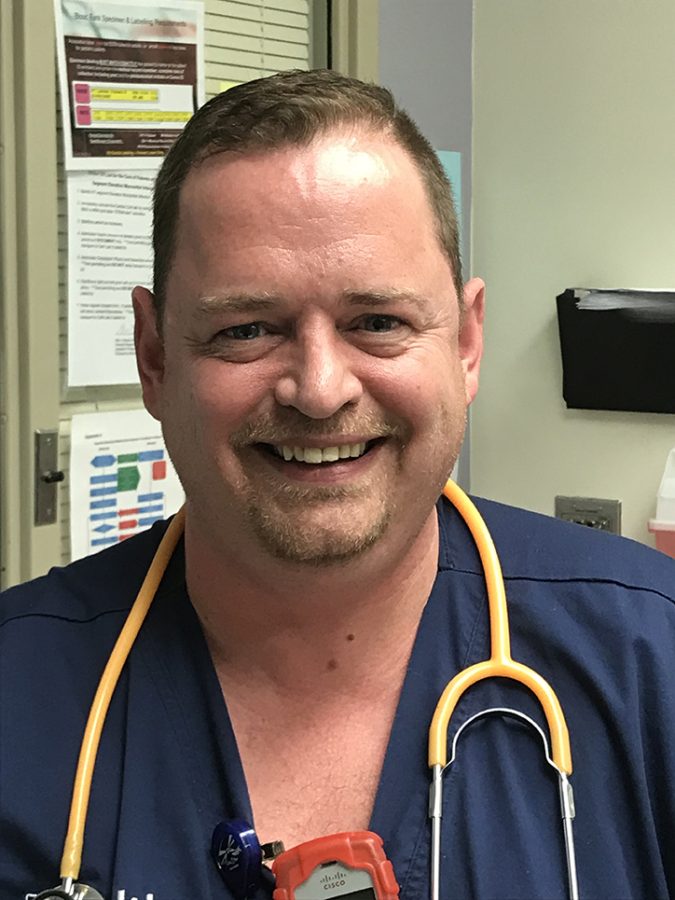 "It was hard for my grandmother and for us, but I was determined not to put her into a nursing home," Richards said. "My grandmother would often tell me that I would make a great nurse. After awhile, I started listening and began giving it serious thought. In 2009, I decided to embark on a nursing career. Nursing school was the hardest thing I have ever endured, but I felt like I had found my purpose in life."
Richards is a registered nurse and has worked at Augusta University Medical Center for the past nine years. He transitioned from an emergency department nurse to case management in June 2019. As a case manager, he is responsible for making sure patients have a safe discharge home from the hospital while also setting up inpatient rehabs, home health care, home infusions, home oxygen and more.
He also works closely with the hospitalists, social workers, floor nurses, physical and occupational therapists, respiratory therapists and other case management team members to ensure patients are getting the best care at the hospital as well as when they discharge.
Once the AUMC started preparing and taking action because of the COVID-19 pandemic, the plan was for Richards to take care of the patients on 5 West. He volunteered to serve as case manager for all of the COVID-19 positive patients after he started thinking about all of the case managers and how many of them had children at home.
"I could not imagine how they must worry about possibly exposing their families to the virus. With no children at home, I decided that it would be safer for me to take care of those patients and lower the risk of my co-workers possibly taking the virus home to their families," Richards said.
"For the last couple of months, I have been able to work closely with the physicians and the entire 5 West team while helping to take care of the COVID patients. The education that we have received on proper precautions has been tremendous. What started out as pure anxiety, has shaped into confidence that we are all taking the necessary precautions to keep everyone safe."
While he's been working firsthand with these patients, Richards has seen that families are scared. He said before the pandemic, he would see patient's families come and go while visiting the loved ones. Once the hospital started taking precautions to lower the chance of visitors bringing the virus into the hospital unknowingly, he saw the patients were all alone.
"The entire hospital staff became their families," he said. "We have encouraged, loved, laughed and cried with our patients. I have experienced both ends of the spectrum. We have cheered when our patients have come off the ventilator and became well enough to go home with their families, and we have cried while comforting those who have died without their families by their side. In my mind, that is what being a nurse is all about … this is what we signed up for.
"I believe the entire 5 West team has done a tremendous job in trying to make the patients less anxious. We have used an iPad to let the patients see and talk with their loved ones, provided special blankets to help them feel more at home. I cannot speak highly enough on the entire team's efforts to take care of our patients."
The stress level has been high for everyone involved. Richards said the amount of change that has happened within the hospital over the past few months is "mind blowing."
"The main thing that I have done to combat the stress is gardening," he said. "My mother lives with me now, and we have been planting flowers and vegetables and spending more time together. We have definitely learned to appreciate each other on a whole new level."
During National Nurses Week, Richards has nothing but positive things to say about his colleagues.
"First of all, every single one of you are amazing. The outside world will never understand what it takes to do our jobs, but that is OK," he said. "This is what we signed up for. Coming to work these days is very stressful, but if we come to work with the attitude that nothing is going stop us, nothing is impossible. You are all HEROES!"