AUGUSTA, Ga. – More than a dozen Georgia Regents University and Health System nurses were recognized at the 2015 Spirit of Nursing Showcase hosted May 2 by the CSRA Chapter of the Georgia Nurses Association. The annual Showcase and awards banquet is a celebration of National Nurses Week, which each year begins on May 6 and ends on May 12, the birthday of nursing pioneer Florence Nightingale.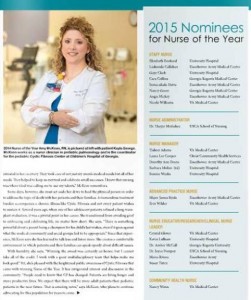 The following nurses received Spirit of Nursing awards for exemplifying a true spirit of caring and commitment to the nursing profession – whether delivering direct patient care services or leading others:
Renee Flippo, Assistant Professor, College of Nursing, Biobehavioral Nursing
Dr. Amber McCall, Assistant Professor, College of Nursing, Physiological and Technological Nursing
Gail Cantrell, Senior Staff Nurse, IV Therapy Team, Georgia Regents Medical Center
Anne Gadia, Senior Staff Nurse, Operating Room, Children's Hospital of Georgia
Tammy Harris, Senior Staff Nurse, Family Medicine, GRHealth
David Highsmith, Staff Nurse, Operating Room, GRMC
Donna Kolb, Senior Staff Nurse, Epilepsy Unit, CHOG
Kasey McGill, Senior Staff Nurse, Emergency Department, GRMC
Yakita Rouse, Senior Staff Nurse, Post Anesthesia Care Unit, GRMC
Traci Talman, Senior Staff Nurse, Adolescent Clinic, CHOG
McKenzie Vick, Staff Nurse, Pediatric Intensive Care Unit, CHOG
Deanna Williams, Senior Staff Nurse, Emergency Medicine, GRMC
In addition, McCall and Assistant Professor Dr. Stephanie Wright, also in Physiological and Technological Nursing, were awarded Spirit awards on behalf of Sigma Theta Tau, and the Georgia Association of Peri Anesthesia Nurses recognized GAPAN member Gloria Moxley in Preanesthesia at CHOG with a Spirit of Nursing award.
Nurse of the Year nominees in the staff nurse category were Cara Collins and Nancy Green, both Senior Staff Nurses in Emergency Medicine, and the College of Nursing's McCall was nominated in the category of nurse educator/researcher/clinical nurse leader.
Amy McKeen, a pediatric nurse in the CHOG Cystic Fibrosis Center, was 2014 CSRA Nurse of the Year. McKeen and this year's Spirit winners are featured in the May/June issue of Augusta Family Magazine in the Spirit of Nursing special section.
According to the American Nurses Association, there are about 3 million registered nurses in the United States today. About 1,300 of them deliver care at GRHealth. Often described as an art and a science, nursing is a profession that has grown tremendously over the past few decades. Most people associate nurses with hospitals, but hospitals are just one of the many areas where today's nurses practice.
Nearly 70 faculty nurses at GRU's College of Nursing work in the classroom, teaching and training tomorrow's patient care teams. Nurses are also earning advanced degrees, such as the nurse practitioner degree, and are operating a variety of medical clinics to help meet the demand for primary care. Furthermore, nurses are leading the charge in Patient-and Family-Centered Care, a practice GRHealth helped pioneer that improves health care quality and safety by involving the patient and family in the entire plan of care.