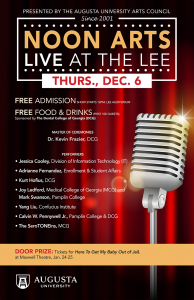 Close out this academic year by enjoying musical performances, food and fun. Sponsored by the Dental College of Georgia and presented by the Augusta University Arts Council, Noon Arts: Live at Lee will take place on Dec. 6 at 12 p.m. at Lee Auditorium. Performances will include singing, piano, poetry and Chinese instruments.
Admission is free for all and food and drinks will be provided for the first 100 guests. There will also be a door prize for tickets to the upcoming showing of How To Get My Baby Out of Jail in January at the Maxwell Theatre.
For more information, contact Tricia Perea or call 706-721-8800.