The dean of the state's only public medical school and a five-year, $11 million initiative by the medical school's Center for Healthy Aging aimed at keeping us stronger longer are recipients of The Center for Global Health Innovation's Office of Life Sciences and Digital Health 25th annual Golden Helix Awards.
David C. Hess, MD, 27th dean of the Medical College of Georgia at Augusta University, received a Community Award, presented to a small number of individuals, companies or institutions whose contributions to Georgia's life sciences community are worthy of special recognition. Representatives from the Center for Healthy Aging received a Deal of the Year Award, given to one or more companies or institutions for the most significant financial or commercial transactions, based on the deal's importance to Georgia's life sciences industry.
The awards were presented Wednesday, March 29th at the Fox Theatre in Atlanta.
The conversations between our bone and muscle change as we age, and both become weaker. The bone and muscle that keep us upright are in constant communication and their wellbeing tends to go hand in hand. Muscle loss, or sarcopenia, is a major cause of falls, and falls are a major cause of bone fractures, including common and potentially debilitating hip fractures.
Center for Healthy Aging co-directors Carlos Isales, MD, chief of the MCG Division of Endocrinology, Diabetes and Metabolism, and Mark Hamrick, PhD, bone and muscle biologist; as well as Sadanand Fulzele, PhD, aging researcher in the MCG Department of Medicine; and Meghan McGee-Lawrence, PhD, a biomedical engineer in the MCG Department of Cellular Biology and Anatomy, are principal investigators on a re-renewal of a National Institutes of Health Program Project grant that will ultimately identify early, optimal points for novel interventions to change that dynamic in an aging population that is exploding with all 73 million baby boomers reaching age 65 by 2030.
The center is the only one of its kind in the Southeast that integrates research and clinical expertise in musculoskeletal, neurological and orofacial repair to address critical unmet needs in the treatment and management of traumatic injury and degenerative disease. The center has two primary foci — how aging affects the musculoskeletal system and how it affects our brains. Center members are involved in basic science research in cell and molecular biology, stem cell research and regenerative medicine; translational research in animal models of disease; and clinical research studies, including functional assessments and finding biomarkers for disease that affect us as we age.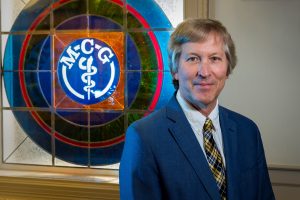 Hess, a stroke specialist, federally funded investigator, honored educator and biotech entrepreneur, also serves as executive vice president for medical affairs and integration at Augusta University.
As dean, he has helped oversee the most significant curriculum change in MCG's history to better address the need for more primary care physicians in Georgia and beyond and to enable all students to better tailor their medical education to optimally meet their future practice plans. He also has expanded the scope and depth of scientific discovery regarding the state and nation's major health issues, including establishing the Center for Healthy Aging and the Immunology Center of Georgia.
Hess helped develop the REACH telestroke network in rural Georgia that now numbers more than 20 hospitals. REACH enables timely stroke diagnosis and treatment by using the internet to eliminate distance between patients and stroke specialists. He also co-founded and chaired the Board of Directors of REACH Health Inc., a telestroke company that spun out of MCG and now also provides similar services for a variety of acute medical problems to patients, physicians and hospitals worldwide. REACH Health Inc., based in Atlanta, was sold to InTouch and later Teladocs in 2019.
The Golden Helix Awards celebrate the contributions and achievements of Georgia legislative, academic, corporate and advocacy leaders working to advance the growth of the life sciences industry and foster strategic partnerships that can create a healthier world.