Dr. Vinata B. Lokeshwar, chair of the Department of Biochemistry and Molecular Biology at the Medical College of Georgia at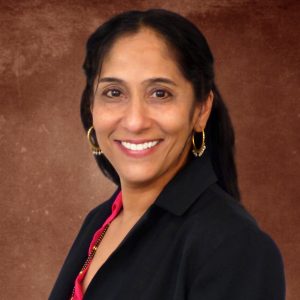 Augusta University, is the recipient of the 2018 Distinguished Service Award from the Society for Basic Urological Research.
Lokeshwar served as the society's president from 2012-13 and guided the group as it transferred management and was faced with a drop in investments during one of the worst recessions in U.S. history. She has also served as a representative on the group's Patient Advocacy, Executive and Program committees, as well as organizing the 2009 8th World Basic Urological Research Congress, in conjunction with the European Association of Urology.
She is serving a four-year term on the National Institutes of Health's Drug Discovery and Molecular Pharmacology Study Section. The 20 members of the study section review grant applications focused on the discovery, design, identification, isolation, development and synthesis of new molecular agents that are potentially useful in cancer therapy. Applications are typically focused on agents that may combat cancer by slowing cancer cell growth, hastening cancer cell death, sensitizing cancer cells to other therapies, inhibiting metastasis or angiogenesis or ameliorating side effects of other cancer treatments.
From 2016-17 she chaired the Pathobiology Review Panel for the US Department of Defense/Congressionally Directed Medical Program's Pathology Research Program.
Lokeshwar's research, which focuses on the metastasis of prostate, bladder and kidney cancer with the goal of better diagnosis and treatment, has had continuous external funding for nearly 20 years. She is a principal investigator on two National Cancer Institute R01 grants and a grant from the Department of Defense. She has mentored more than 50 researchers, including doctoral and master's degree students, postdoctoral fellows, research trainees and urology residents.
She has co-chaired the Bladder Cancer – Basic Research Session at the American Urological Association Annual Meeting two years in a row.
She is senior editor of the textbook, Bladder Tumors: Molecular Aspects and Clinical Management, associate editor of the journal Bladder, consulting editor of the journal Urologic Oncology and a member of the editorial board of World Journal of Urology and Bladder Cancer.
Her educational honors include the 2015 Sylvester Comprehensive Cancer Center Outstanding Mentor of the Year for Trainees. Earlier this year, she received an MCG Exemplary Teaching Award.
Lokeshwar earned a PhD from St. Louis University in Missouri and completed postdoctoral studies in the Department of Cell Biology and Anatomy at the University of Miami Miller School of Medicine. During her postdoctoral work, she completed American Heart Association and National Cancer Institute fellowships.