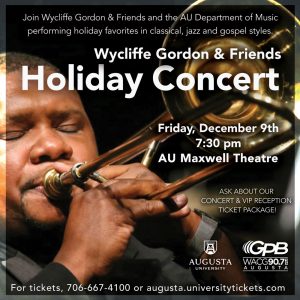 Kick off the holiday season with legendary jazz musician Wycliffe Gordon as he teams up with the Augusta University Department of Music and GPB-Augusta to present the "Wycliffe Gordon and Friends Holiday Concert" on Friday, Dec. 9, at the Maxwell Theatre on the Summerville Campus. Showtime is 7:30 p.m.
Gordon has invited members of the university's music department faculty to perform on the program, along with some student groups assembled especially for this event.  Additionally, some musicians that Gordon knows from his international travels will be joining him on stage as special surprise guests.  The concert features holiday favorites performed in classical, jazz, and gospel styles.  It is being recorded for a Christmas Eve broadcast on the Georgia Public Broadcasting (GPB) statewide radio network.  
A pre-concert reception will be held at 6 p.m. in the lobby of the university's Fine Arts Center on the Summerville Campus. Tickets for the reception and concert are $25 per person. Tickets for the concert only are free for university students with a valid JAGCard, $15 for the general public and $5 for children ages 6-12.
Gordon is a world-renowned trombonist, composer, arranger and conductor who has received numerous awards for his work. His compositions have been performed by the Lincoln Center Jazz Orchestra and he serves as a musical ambassador for the U.S. State Department. In addition to being the Artist-In-Residence at Augusta University, he has also served as a faculty member in the Manhattan School of Music's Jazz Arts program.
For more information or to purchase tickets, call the Maxwell Theatre Box Office at 706-667-4100 or visit augusta.universitytickets.com.