Augusta University men's and women's golf teams have had successful seasons so far. 
The men's team has finished in the top 3 in two of the past three events, including a win at the end of February at the Wexford Plantation Intercollegiate in Hilton Head, South Carolina.
The women's team is coming off a second-place finish at the Moon Golf Invitational, an event played in Melbourne, Florida, which the University of Louisville hosted. The finish moved them up to 42nd in the collegiate golf rankings.
"I think that we are ranked about as high as our women's program has ever been ranked," said fifth-year coach Caroline Hegg. "Our last two tournaments have been very successful. We just finished second at the Moon Golf in a very good field … We beat Alabama and a lot of teams that are in the 25 to 35 ranking range, which gives us a lot of confidence and shows we can play with anybody."
Men's golf coach Jack O'Keefe, who is currently in his seventh year, said the season has been good but more on the inconsistent side than he would like.
"Saying that, I am happy with our last tournament when we started three true freshman, a true sophomore and a senior," O'Keefe said of their winning team. "That was exciting. The young guys came through and played well in the clutch time of the tournament and played well coming down the last few holes after a poor start the final round and having the lead — so very, very proud of them."
'Rising tide floats all boats'
Hegg and O'Keefe said it's nice to know they have each other for support during a long season of training, tournaments and recruiting.
"I think we try to stay in constant communication with one another; I mean our offices are only five feet apart," O'Keefe joked. "She coaches eight different personalities and players than what I coach."
He added that JP van der Walt, who is the assistant coach for both programs, has "been a good buffer for us, because we'll talk about this and that, and then he'll say, 'Hey, you might want to ask Caroline about that. And so, we work together very well."
Hegg, who readily admits she has an "unhealthy competitive drive," said the programs are better off if they can work together and support one another.
"The rising tide floats all boats," Hegg said. "The better the men's team is, the better it is for me, and the better the women's team is, I hope that's a benefit to Jack into what he's building as well.
"I firmly believe in working with the people that are around you and trying to find common ground to where we can all get better as opposed to pulling each other down a little bit," she added. "But I think Jack and I have a very good understanding of each other, and we're both on the same page as far as what our goals here are, which is to put together the best golf programs we can and give our kids the best experience we can."
Busy month ahead
The inclement weather over the past week has made preparing for the Valspar Augusta Invitational on March 14-15 tricky at times. Hegg is determined to have her team as ready as possible.
"There's always a lot of pressure and expectation going out on your home golf course. And to me, the way that you combat that and overcome that is by controlling what's in the realm of your responsibility," Hegg said. "For us, that's making sure we're as prepared as possible. We're hitting the appropriate shots we need to be working on so that we can go out and overcome a bad hole and do the things we need to do so that the expectations don't outweigh our ability to perform."
The home event kicks off a busy March after being off from competitive play for almost a month. The next two weekends, the Jaguars will play in the Liz Murphey Collegiate Classic in Athens, Georgia, and the Clemson Invitational in Sunset, South Carolina, before taking April off to prepare for the NCAA Regionals.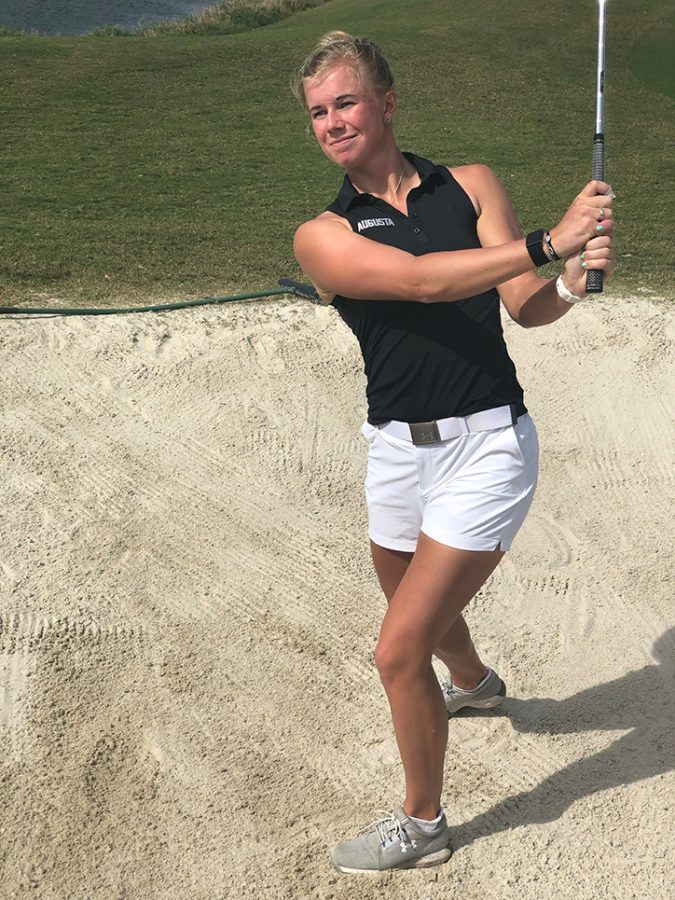 Women's golf in strong place
Hegg said that while they will be playing on similar courses over the next three weeks, she had to make a decision early on about April's schedule. There are not a lot of tournaments during the month with the Augusta National Women's Amateur, but she only sees that as a good thing.
"Women's golf is in a really good place and in my opinion, amateur women's golf has never been stronger," Hegg said. "It's continuing to get better. When I was a player 10-15 years ago, there was a big difference between the 50th-ranked player in the country and the 300th-ranked player. Nowadays, the competition and talent is getting stronger across the board. And events like the Augusta National Women's Amateur help promote what we stand for as college coaches, which is competition and in elevating our women's game so that people see how good these girls are."
As for her team, she knows how strong their games are and has seen them mature and improve as the season has gone along. Senior Linda Lundqvist, who Hegg said is poised to win her first collegiate event any day now, has four top 25 finishes this season, including a tie for third at the Moon Golf Invitational.
Hegg said freshman Maria Villanueva, from Spain, also has four top 25 finishes as she has become acclimated to her new surroundings, and they are starting to get more consistent play from sophomore Natalia Yoko and senior Teresa Diez-Moliner, who has three top 25s in the past four events.
Fine tuning their game
O'Keefe's squad will play March 12-13 in the Gary Freeman Invitational in Daytona Beach, Florida, in an event hosted by Bethune-Cookman. The following week, March 20-22, they will play in the Linger Longer Invitational in Eatonton, Georgia, which Kennesaw State and Mercer will co-host.
They will take a week off before playing host to the Augusta Haskins Award Invitational, where the individual medalist will receive a sponsor's exemption into the PGA Tour's Valspar Championship in 2021.
"We want to get the ball rolling in the right direction these next couple tournaments and then obviously we always want to play well at Forest Hills in our home event," O'Keefe said. "So we're gearing up to have a big splash at the home event. We're just trying to gain some momentum because we always want to be playing our best toward conference, regionals and nationals."
Freshman Ben van Wyk joined his brother Alex this season and has made all seven starts this season. His best finish came in Hilton Head with a tie for third. Alex van Wyk has two top 15s under his belt.
"Ben was the No. 1 player in the junior ranks in South Africa, so we knew he was very good coming in. He's starting to hit his stride," O'Keefe said. "He was really disappointed when he didn't win, but was happy he was able to rebound and put together a good round for the team."
Freshman Jack Vajda has also made a good impression with his solid play and putting this season. His best finish came back in the fall session at the Old Town Club Collegiate, where he tied for 29th.
O'Keefe has been happy with the team's overall chemistry this season, which he attributes to their living arrangements.
"Six of our seven guys live in the same apartment complex, and one complex has three players and another complex has three players, and they're two doors from each other. So they spent more time together," O'Keefe said. "It just seems like the bond and the team chemistry is more solid than in the past. And some of it, I think, is they live together and they enjoy each other's company and then they push each other each day in practice, too."
Get more information on the Jaguars' home tournaments.