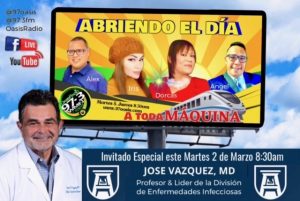 COVID-19 continues to strike communities of color with vengeance, according to the Centers for Disease Control and Prevention.
In an effort to help encourage COVID-19 vaccination in Augusta's underserved and minority communities, Dr. Jose Vazquez, chief of infectious diseases at Augusta University Health, will be featured on the Abriendo El Día show on 97.3 FM OasisRadio at 8:30 a.m. Tuesday, March 2 to discuss the myths and facts surrounding the COVID-19 vaccine in Latinx communities.
Follow AU Health's series highlighting racial disparities in health care and learn more about how Augusta University is targeting underserved communities as part of a public vaccination effort.
Find the latest news and updates on COVID-19 on Augusta University's dedicated resource page.