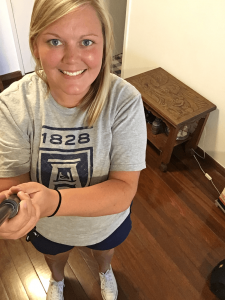 This morning, I was sitting in the living room watching live coverage of the Olympics and eating a breakfast of cold pepperoni pizza. Arthur walked into the room and we discussed our plans for the day. These plans included a selfie stick.
When selfie sticks first came out, I said I would never use or buy one. I thought they were a bit ridiculous, but I was wrong. I love the selfie stick.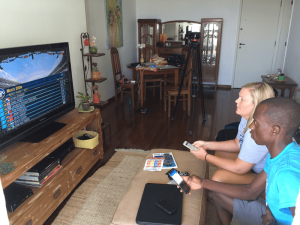 We spent the day hanging out with Pardon. Because Arthur and I don't have the proper credentials, we cannot get anywhere close to the athlete's village. The security is actually pretty impressive. So, Pardon came to us. Arthur, Pardon and I spent some time talking and watched some of the Olympic track and field events.
Then, we went to Rio Design Barra, the mall. It's similar to the Augusta Mall, but it seems very upscale. We had lunch at a restaurant called Balada Mix Rio. I had teriyaki chicken with black beans and rice. It was delicious. I also tried fresh passion fruit juice. Arthur loves passion fruit. His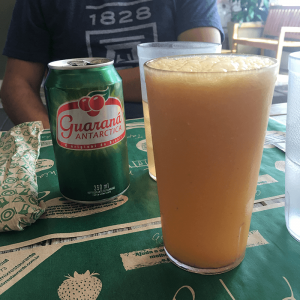 favorite juice is passion fruit juice and his favorite cake is passion fruit with white chocolate. So, I had to try the passion fruit juice. The juice was orange. For some reason I imagined it would be pink or red. It tasted good, but was also a bit tart.
After lunch, we returned to the apartment and watched more Olympic coverage. We watched the Brazilian women's soccer team play Sweden and we watched synchronized swimming. It was the first time I ever paid much attention to the sport of synchronized swimming, but it was impressive. I really want to know how long these women can hold their breath.
When the soccer game ended, it was selfie time.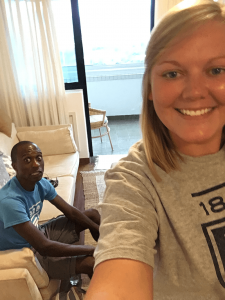 Pardon, Arthur and I were all wearing the same shirt. I promise we did not plan it. So, of course we had to take a selfie of our matching outfits. And you can't take just one selfie. You have to take several.
I know I said I would never use a selfie stick. I lied. It's not Arthur's selfie stick anymore. It's mine. I adopted it, and the selfie stick is now a must have on our gear list for every day. I look forward to sharing more photos with Jaguar Nation.
Be sure to check out Arthur Takahashi's blog for his take on our Rio experience.