Intubating a patient who has COVID-19 is a high-risk procedure because viral particles become aerosolized which increases the risk of transmission of disease to health care workers.
Thanks to a design created by a doctor in Taiwan, and the collaboration of several certified registered nurse anesthetists and a local professional engineer, safer intubations at Augusta University are now possible.
Ellen Basile, DO, chief of the Pediatric Anesthesia Division, said in the event a patient has a contagious disease, the particles can be transferred to the staff, who are in close proximity to the patient.
Laurie Yates, a certified registered nurse anesthetist, said when new challenges are presented, the anesthesia community mobilizes and new and creative ideas emerge. 
While perusing Facebook, she saw a post by Dr. Hsien Young Lai, an anesthesiologist from Taiwan, who created an aerosol box and published the specifications and photos demonstrating it on March 22. After several attempts to find more information, Yates reached out to a colleague, Chuan "Angie" Hicks, a pediatric CRNA, and asked for help.
"I got the text message from Laurie, and I began to do my online research," Hicks said. "I was able to find (Lai) and reached out to him via Facebook Messenger to tell him we saw his design and we'd love to use his idea. But while I was waiting on him to respond, I did find that Dr. Lai did share the design in a post for anyone around the world to use the design."
A day later, Lai responded to Hicks, which began a conversation sharing knowledge and appreciation.
"I started conversing in Chinese, which is our language, and he was just surprised that I was here in the U.S.," Hicks said. "I told him of our situation here and he told me about their situation … But he was very happy that we loved his design and we want to use it. He's just so happy that this 'small thing' he made will be able to help so many people."
Another pediatric CRNA, Alison Brigham, joined the project and immediately contacted a friend, George McCall, to help with the construction of the box.
McCall works at GIW Industries Inc. in Grovetown, where he is the manager of the hydraulic laboratory, part of the Engineering and Research & Development Department. At the time, McCall and his team were busy at work and because concerns about the virus were not as heightened, "I had not yet started to think about ways to contribute."
"Alison called me at 8:28 p.m. on Sunday, March 22. We delivered the first polycarbonate intubation box in less than 24 hours," McCall said. "I work with some amazingly capable and resourceful people. As soon as I saw the intubation box that had been developed by Dr. Lai, I knew our team of volunteers could produce them quickly and would continue to do so enthusiastically."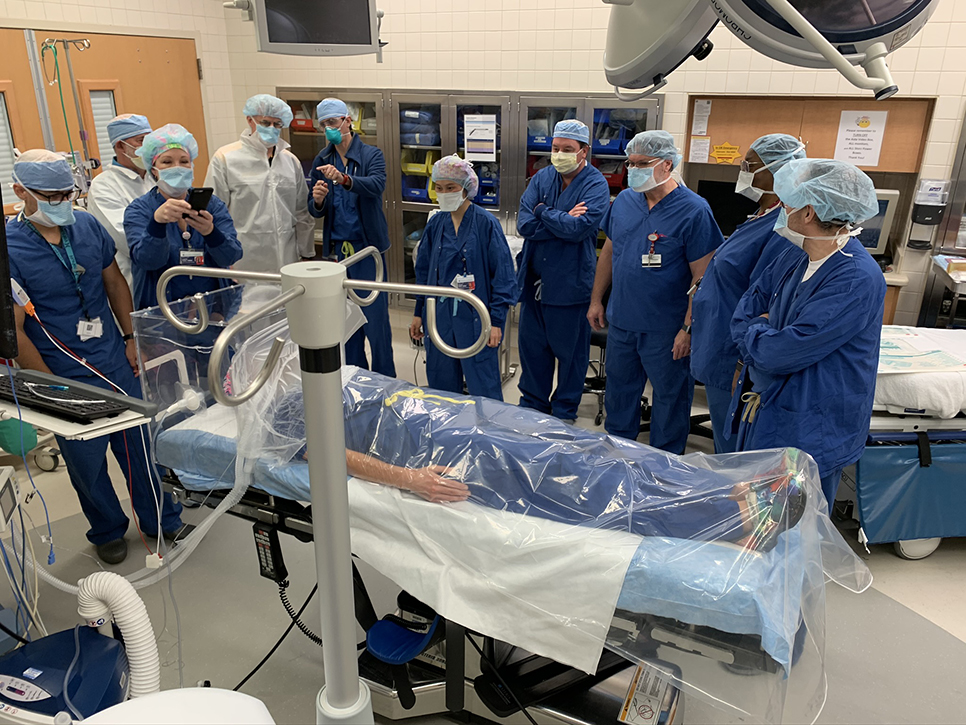 To date, six boxes have been built and delivered to three hospitals free of charge, McCall said. Each has been different in terms of size and features, as they have tried to incorporate changes along the way to facilitate manufacturability. McCall did say the boxes are relatively inexpensive and can be assembled by one person in less than a day.
Basile and Yates said the first box needed some minor revisions after several people tested it and added their own ideas on how to improve upon the original design. Some of those ideas included augmenting the arm holes, as well as adding a side port to place a HEPA filter, and connect to suction, which creates the negative pressure chamber.
"The arm holes had to be increased in size and were changed from circular to oval," Yates said. "This allowed greater maneuverability inside the box. Soon greater ideas began to emerge, as anesthesia providers around the entire country began making aerosol boxes and tried to make them better. 
"The most significant change was utilizing the Neptune surgical evacuation system to create a negative pressure environment inside the box. A porthole was added on the side of the box for the suction and a viral/bacterial filter and a small piece was added to attach a sticky plastic drape to seal off the end toward the patient's feet.
"The importance of adding negative pressure is that it rapidly filters and clears the air inside the box," Yates added. "The overall effect is decreasing aerosolized viral particles that could potentially infect health care providers. The box also gives us a good alternative if a negative pressure room is not available for the patient."
All of the health care workers have expressed their gratitude toward McCall and his team for the hours spent on creating these boxes, which was approved by hospital leadership for use on COVID-19 patients at Augusta University Medical Center and the Children's Hospital of Georgia.
The team also wishes to thank Drs. Chad Parvus-Teichmann, Gustavo Munoz Monaco, Roberto diaz Galdo, Efrain Riveros Perez and Klifford Rocuts Martinez for assisting with the testing and ensuring the negative pressure box was able to pass bioengineering inspection.
"Not long after 9/11, there were some of our soldiers who did not have sufficient body armor, so their families and friends pitched in and bought bulletproof vests … we saw this as a similar situation," McCall said. "It feels good to know we may have helped in some small way, but this is not about how we feel. It's about contributing toward the safety and effectiveness of those on the front lines of the COVID-19 war effort."
McCall just had a simple message to the health care workers at AUMC who are able to use this equipment.
"Thank you for the risks you take and the sacrifices you make each day," he said. "Thank you for giving us the opportunity to support your noble work. Please let us know what else we can do to help you."
Find all the ways you can help Augusta University during the COVID-19 pandemic.