Engaging. Future thinking. Helpful. Influential. Supportive. Well appreciated and respected. A good mentor. A good friend.
These are the words former colleague and friend William Caldwell, PhD, former professor and chair of the Department of Pharmacology and Toxicology at Augusta University's Medical College of Georgia, used to describe the late Lowell M. Greenbaum, PhD, 94, who passed away April 19 from complications of a stroke at his home along the Savannah River.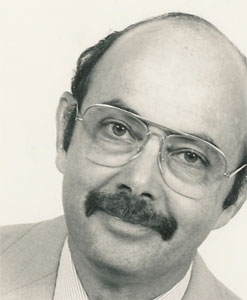 Greenbaum arrived at the Medical College of Georgia in 1979 as chair of the Department of Pharmacology and Toxicology and became acting vice president of research at MCG and acting dean of the School of Graduate Studies in 1985, positions that became permanent in 1986 through his retirement in 1995. 
His greatest research accomplishment was developing and presenting research on kinins, proteins that cause inflammation and affect blood pressure, before inflammation was such a focal point for science and medicine.
He was recognized internationally as a leader in kinin research. He was also president of the International Kinin Congress, held in 1984 in Savannah, Georgia, according to an article that ran in the MCG Beeper in 1994. 
"The meetings which he chaired, or was the host, provided notoriety to the Medical College of Georgia for sure," Caldwell said.
During his tenure at MCG, Greenbaum implemented a PhD program in nursing, which gave the nursing department a lot of headway into research, Caldwell said.
As vice president of research, Greenbaum fostered biomedical research.
"He kept it going. He fostered research in general. He was very involved with recruiting and maintaining and growing research programs," Caldwell said. "He also developed the graduate school into a bigger organization."
Greenbaum believed that society is greatly enriched by the quality and vigor of graduate education in the United States, according to the Beeper article from 1994 announcing his retirement.
"Graduate education is the cornerstone of the future, and no one person can change that," Greenbaum said in that article. "(It) is not profitable, but it is essential."
Greenbaum implemented the first patent and copyright policy of the University System of Georgia Board of Regents, founded and organized the first University System Research Symposium and served on the Chancellor's Research Advisory Committee and as a charter member of the board of the Educational Research and Development Association of Georgia. He also developed MCG's first Conduct of Research Policy and organized the graduate school's non-degree program to help students prepare for graduate and professional schools, according to the article. 
"Dr. Greenbaum has done an outstanding job in bringing this institution to a higher level in the area of research," said Francis J. Tedesco, MD, president of MCG at that time. "The leadership he has provided the institution in the research arena will be a cornerstone as we continue our research development."
Darrell G. Kirch, MD, dean of the School of Medicine at that time, agreed with Tedesco. "He very smoothly made the transition from being a respected researcher in his own right to looking at the larger picture (at MCG)," he said. "He has done an outstanding job."
Greenbaum founded the Southeastern Pharmacology Society, a group of faculties from departments from throughout the Southeast that would gather to present and discuss topics in pharmacology, an organization Caldwell was part of while on the faculty at the University of Tennessee-Memphis. His first trip to Augusta was around 1980 to attend one of the meetings with a graduate student. During that trip, he first met Greenbaum. 
"It was a great occasion. I met Greenbaum and the former chair of pharmacology before Greenbaum, Dr. Raymond Ahlquist," he said of that first meeting. "Little did I know that about eight years later, I'd be coming to Augusta."
Greenbaum developed a strong research department on top of an already strong teaching department, Caldwell said. The pharmacology department was already known and awarded for its teaching, but Greenbaum added research to the department's notoriety.
"He brought in a great group of researchers," Caldwell said. "There were four of them that were quite active and excellent investigators. But he also had a very nice cadre of faculty that were here before, largely teaching. For years, we had teaching awards for pharmacology."
After retirement, Greenbaum stayed active in the pharmacology and toxicology department. In his honor, the department established the Lowell M. Greenbaum Award for Excellence in Pharmacological Research. That award is still around today and is given for the best presentation in pharmacology at Augusta University's annual Graduate Research Day.
"He was a smart and good man and strategic thinker. We appreciate his service to MCG, to science and to our community. Our thoughts are with his family," said David Hess, MD, dean of the Medical College of Georgia.
After his retirement, Greenbaum kept up his involvement in the community, a trait that he also showed during his time at MCG.
"I was certainly aware of what he was doing community-wise. I applauded his actions in his community service," Caldwell said. "He was very involved and helped in the community. He just became very influential, including politically. I think he was well appreciated and respected for his work."
According to his obituary, Greenbaum chaired the Richmond County Democratic Party for 16 years and hosted Bill Clinton, Nancy Pelosi and Stacey Abrams at his home. The Georgia State Democratic party thanked him with a lifetime achievement award from the Democratic Party of Georgia. The breadth of his service was recognized in 2022 by President Joe Biden with the President's Lifetime Achievement Award.
He was also an active member of Rotary and sat on the board of the Augusta Canal Authority.
His love of the river was apparent to Caldwell.
"He and his wonderful wife Gloria lived in a beautiful home overlooking the Savannah River. I've seen him cruising down the river in his pontoon boat," he said.
Caldwell will miss Greenbaum both professionally and personally.
"He was friendly; he was supportive," Caldwell said. "He was always glad to talk with you. He was a good friend."
Greenbaum's legacy will be felt at Augusta University for years to come.
"Dr. Lowell Greenbaum's contributions to Augusta University are significant and far-reaching, and his legacy will continue to be felt by the many students, faculty and staff members whose lives he touched," said Brooks A. Keel, PhD, president of Augusta University. "We mourn his passing and extend our deepest condolences to his family and all who loved him. Dr. Greenbaum was a true leader and innovator in the field of research and education, and his dedication to the advancement of knowledge will always be remembered."