As the College of Nursing at Augusta University was holding its white coat ceremony, Dr. Lucy Marion was able to enjoy the event and reflect on her years of service as a nurse and as the college's dean.
"This period of my life is filled with those reflections and looking back to what I've been through," said Marion, who participated in her last white coat ceremony as dean on Aug. 23 at Christenberry Fieldhouse. She is set to retire at the end of October.
Dr. Tanya Sudia, who currently serves as associate dean for research and scholarship at the Louise Herrington School of Nursing at Baylor University, will take on the role starting Jan. 1.
"I was talking about how I took my first group of students through in 1968, and now we're taking this huge group of students, 320 of them, to start them in their nursing programs. … I'm a futurist. So I'm looking ahead, and I'm looking at them in relation to what they're going to do more than what's happened in the past."
Receiving their white coats at the event were the Class of 2020 (150 students) for the master of science in nursing with a concentration in clinical nurse leader, and the Class of 2021 (170 students) for the bachelor of science in nursing.
The Arnold P. Gold Foundation (APGF) established the ceremony in 1993. The ritual provides an emphasis on compassionate, collaborative, scientifically excellent care from the first day of training. In 2014, it partnered with the American Association of Colleges of Nursing (AACN) to adopt a white coat ceremony for nursing. More than 310 schools of nursing now participate and the number continues to grow.
AU was one of 50 schools across the nation that received funding from the APGF and the AACN to play host to the white coat ceremony. Since 2013, the organizations have collaborated to provide support and technical assistance to 360 schools of nursing in 49 states.
Marion remembers being less than enthusiastic when she was approached about having a white coat ceremony for nursing but now happily admits she was wrong about it.
"It's not a symbol of nursing as a rule," she said. "We have the lady with the lamp, we have a lot of other symbols of nursing. The ceremony has been such a wonderful occasion to have this symbol of moving from pre-nursing student into being a professional nursing student; that it is such a celebration. So I'm happy I was wrong. It's a great thing that this has been successful time and time again. And I was just happy to be the dean."
Augusta University President Brooks A. Keel, PhD, said he would be hard-pressed to find anyone who has made more of an impact on the field of nursing, as well as nurse education, than Marion.
"Dean Marion is not just the dean of nursing at Augusta University; she's the dean of nursing for the entire state of Georgia," he said. "Someone with the expertise and the longstanding experience she's had, you can't put a price on that.
"Being able to pass on the great knowledge she's accumulated all these years to all these young people, it's very special to us," Keel added. "Dean Marion may be retiring but she's not going away. We're going to be calling on her because you can't let someone with that kind of expertise, experience and knowledge and such grace get away from you."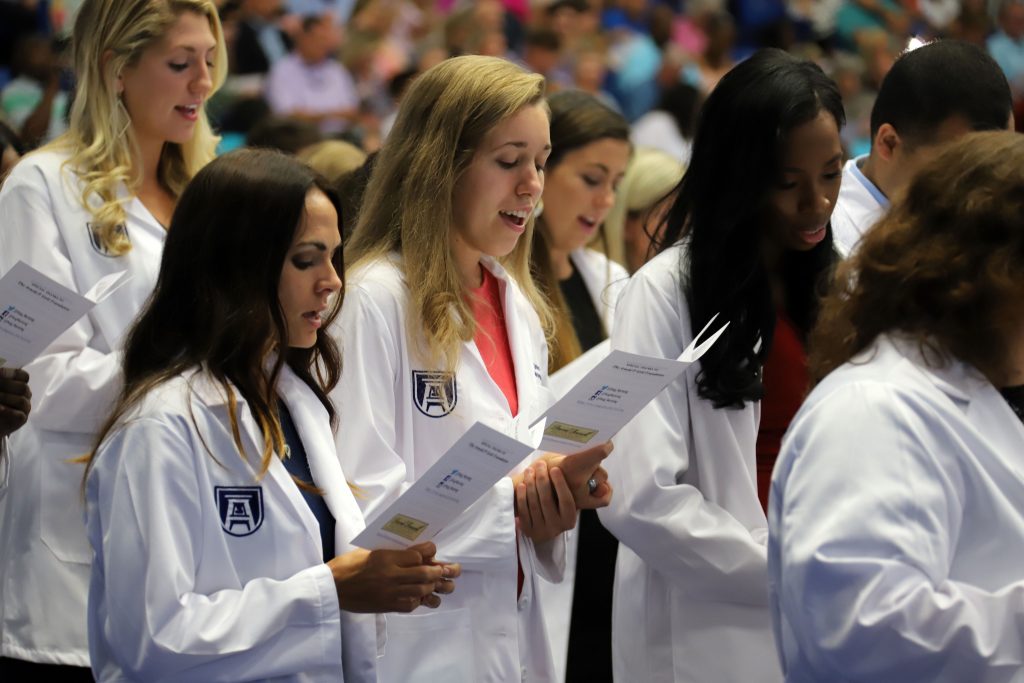 After the students receive their white coats, they say a pledge to the university, themselves and the patients and community that they will "uphold the highest moral values set forth by our profession under all circumstances." Marion said the pledge, to her, continues to be very meaningful.
"I do re-read it, and read these every time, and think about, for myself, am I still doing all that we're asking them to do every time they represent nursing?" she said. "It's a pledge to uphold the standards and ethics of nursing. When you put that white coat on, it reminds you of that. It reminds me of that. And I hope that it will continue to remind all of our graduates of that."
Marion had one last bit of wisdom she wanted to share to these two classes as well as future classes that come through the program.
"A nursing degree is a platform of possibilities. Who knows what they're going to do with their nursing degree? But all things are possible with that platform," she said.