For John Ryan, the time 8:46 a.m. has a great deal of significance.
"At 8:46 a.m., the first plane hit the first tower of the World Trade Center on Sept. 11," said Ryan, a native of New York City, who served as a firefighter for more than three decades before becoming a Critical Event Preparedness and Response (CEPaR) coordinator at Augusta University. "I spent 34 years in the fire service. So, like all of us, 9/11 hit me hard."
While Ryan wasn't a member of the Fire Department of the City of New York (FDNY) and has been in the Augusta area since 1994, he will never forget the tragedies and enormous sacrifices made by first responders on Sept. 11, 2001.
"There were 343 firefighters who died that day," Ryan said. "And that's just in the fire community. I am certain that the law enforcement community could tell you exactly what number of NYPD died that day and the EMS could do the same, but 343 firefighters died that day. And, unfortunately, that number has continued to climb since then."
Thousands of first responders who spent weeks at the former World Trade Center site breathing in air clouded with debris from the collapsed buildings have since been diagnosed with debilitating illnesses and cancers.
In March 2019, the World Trade Center Health Program identified more than 95,000 first responders, volunteers and others with health problems stemming from 9/11. In fact, the program has identified 2,355 deaths associated with 9/11-related health issues.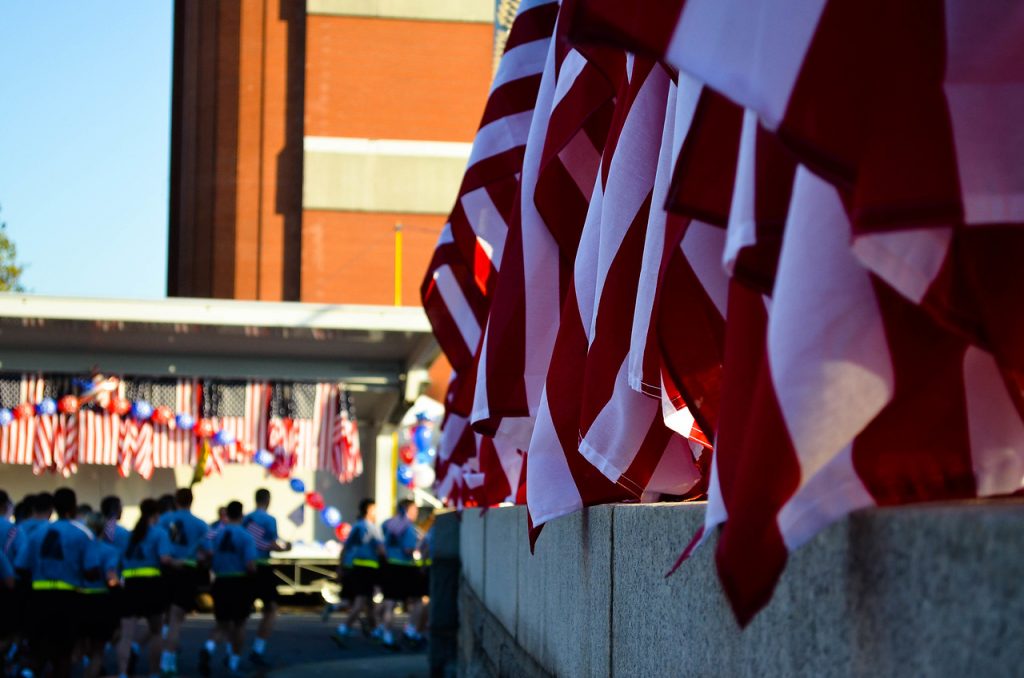 Chronic and debilitating problems with sinuses, reflux and asthma are the most-diagnosed ailments, but more than 12,500 cases of cancer have also been diagnosed, according to the World Trade Center Health Program.
"The people who worked on that rubble pile, now 18 years ago, just continually succumb to innumerable different types of cancer that are undoubtedly related to what they did on 9/11," Ryan said. "It is the event that keeps on taking."
Honoring those who made the ultimate sacrifice
About 10 years ago, Ryan heard about the Stephen Siller Tunnel to Towers Foundation, whose mission is to honor and support first responders and the military.
Tunnel to Towers is dedicated to the memory of fallen 9/11 firefighter and father of five Stephen Siller.
Siller, who was off-duty when the first plane struck the World Trade Center on Sept. 11, immediately drove to his Brooklyn fire station to retrieve his gear after hearing about the plane crash on his car's scanner.
As he headed toward the World Trade Center, Siller discovered that the Brooklyn Battery Tunnel was blocked due to security reasons.
Determined to reach the World Trade Center, Siller strapped about 60 pounds of firefighter gear to his back and ran approximately three miles to the Twin Towers to help those trapped in the buildings.
Tragically, Siller lost his life in the World Trade Center trying to save others.
After his death, Siller's six older brothers and sisters established the Stephen Siller Tunnel to Towers Foundation in his honor.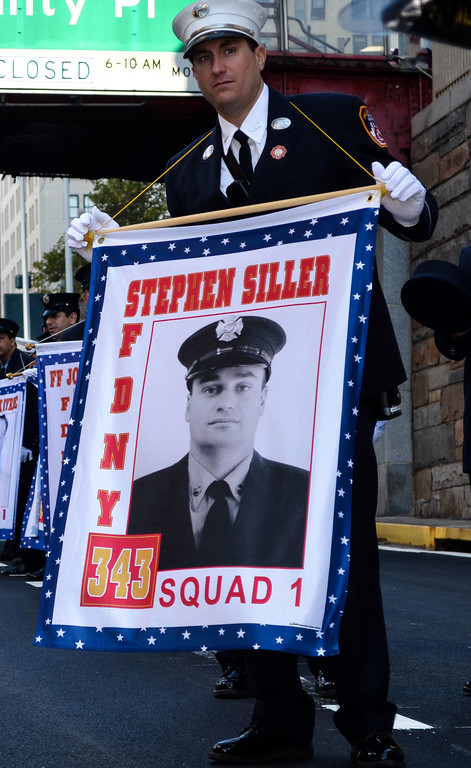 The foundation's signature event is its annual Tunnel to Towers 5K Run & Walk, held in New York City to pay homage to the 343 FDNY firefighters, 71 law enforcement officers and thousands of civilians who lost their lives on Sept. 11, 2001.
The event, which attracts about 30,000 participants each year, is considered to be one of the top 5K runs in the nation.
When Ryan learned of this 5K that helps raise money for programs to assist first responders and catastrophically injured service members, he was determined to bring the event to the Augusta area.
But when he first looked into establishing the event here in Augusta back in 2009, there was an enormous amount of work required to organize a local Stephen Siller Tunnel to Towers 5K.
"At that point, they were about six or seven years in as a foundation and they were starting to mature a little bit, so they sent me a package of information saying, 'This is what it will take to organize a run,'" Ryan said. "Honestly, I was pretty overwhelmed. So I called them back and said, 'I would love to help you guys but I just don't see how I could do this.' They were very polite and said, 'No problem. Thanks for reaching out.'"
However, Ryan never lost faith in bringing the event to the Augusta area.
Suddenly, out of the blue in 2015, the foundation contacted Ryan and told him the nonprofit had grown large enough to hire a support staff that would be willing to help organize a 5K event in the Augusta area if he was still interested.
"When I got that call, I was like, 'OK God, I hear you. Let's do this,'" Ryan said. "So I got together with a couple of my firefighter buddies and, for the first two years that we hosted it, we did it out at the Grovetown Fire Station. But when I retired from the fire department and I came to work for Augusta University, we decided to bring it here. So, this year's run on Sept. 7 will be our second year at Augusta University."
Support first responders on Sept. 7
The Stephen Siller Tunnel to Towers Foundation's 4th Annual 5K Run/Walk will take place Saturday, Sept. 7, beginning and ending at Augusta University's Summerville Campus at 2500 Walton Way.
"The CEPaR staff and Augusta University's leadership, from the top down, have been tremendously supportive," Ryan said. "And the foundation continues to grow. When we got involved in 2016, we were the 27th city in the country to have the foundation's 5K. Now, there are about 50 cities involved."
"But, in addition to the 5Ks, climbs have popped up," Ryan added. "So, in cities that have a reasonably high building where you can climb stairs, they simulate the climb that the firefighters on 9/11 had to make up and the civilians on 9/11 had to make down in an effort to save their lives."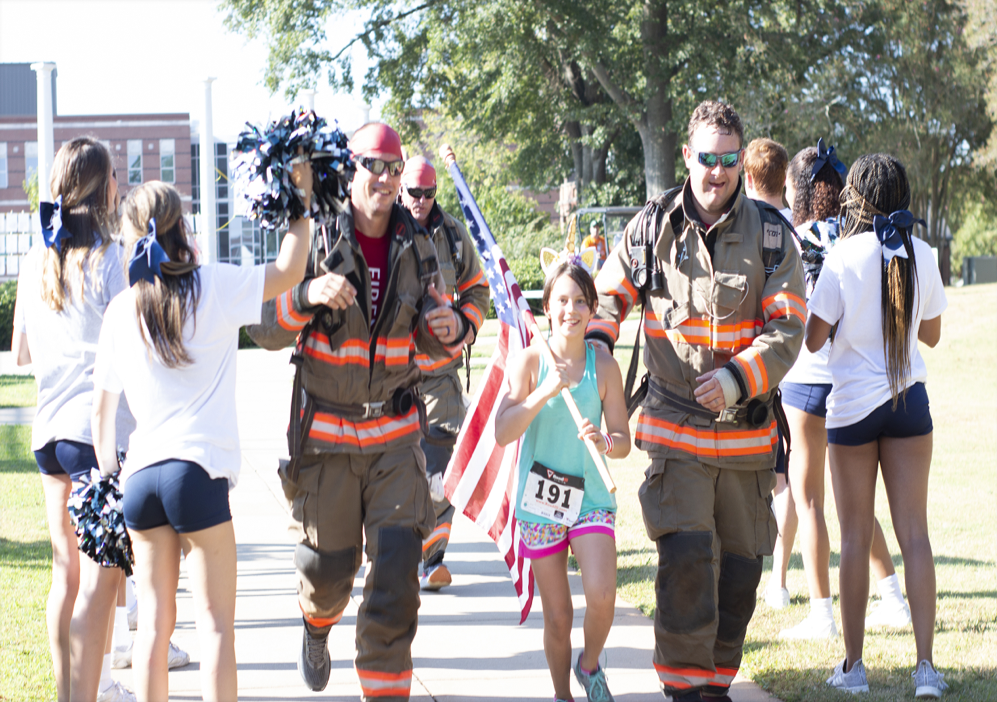 Just last year, there were about 55 Tunnel to Towers run/walks or climbs held in communities across the country. The foundation is hoping to expand to more than 70 cities this year.
And the programs the Stephen Siller Foundation fund are phenomenal, Ryan said.
"The mission of the foundation continues to evolve to be more encompassing," he said. "It's not just one particular good deed that they do. They continue to help in many different ways across the country."
For example, the foundation provides financial support in the form of trust accounts and mortgage payoffs to those family members who lost a first responder in 9/11.
In addition, the foundation has also raised more than $30 million for the construction of customized high-tech "smart homes" for catastrophically injured American service members, Ryan said.
These homes, created primarily for those who are now triple- and quadruple-amputees as a result of injuries from IEDs, have specialized features that are operated using iPads to allow these military heroes to lead their lives as independently as possible.
In fact, more than 93 percent of every dollar raised by the foundation goes directly to program services, he said.
'Never forget' means never forget
For Ryan, he is truly honored to be involved in bringing the Stephen Siller Tunnel to Towers Run/Walk to the Augusta area.
"I grew up in New York City, and to say I have a deep love for New York City is an understatement," Ryan said, chuckling. "I am sure everybody loves where they are from and they are proud of their hometown, but I love New York. Those buttons that say, 'I love New York,' that's legit. So, I truly feel honored to be a part of this."
Registration for the Stephen Siller Tunnel to Towers Run/Walk is currently open and will remain open until the morning of Sept. 7.
"You can even register on-site that morning," Ryan said. "We would love to have as many participants as possible this year and we are still open for volunteers."
"We will accommodate anyone who wants to be involved in any way that they want to be involved," he added. "If they want to volunteer, we will find something for them to do. If they want to run or walk, we will find a way for them to do it. If they just want to come and stand in the distance and just watch and remember, we welcome that, too."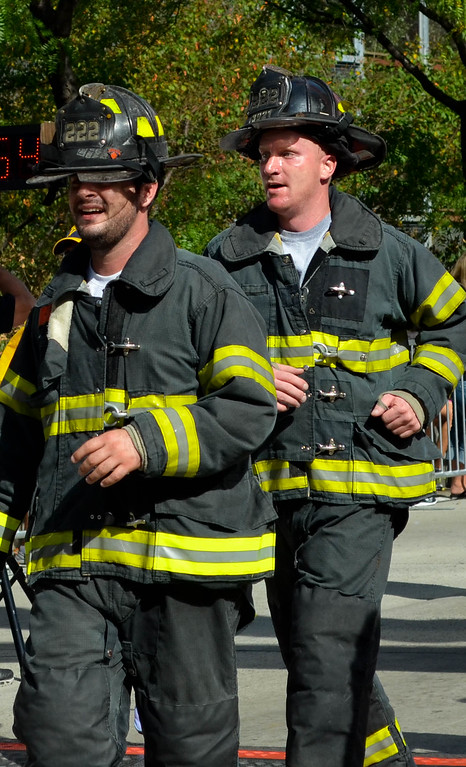 Also, anyone involved in active military who is willing to wear their physical training (PT) gear and run in a group with a flag can run or walk the race for free, Ryan said.
"We want to honor the first responders and the military members any way we can, so we want the active military members to come out and join us for free," Ryan said. "That will also plant a seed for the general population to want to be involved."
It's important that the entire community, including Augusta University students who may not have even been born when 9/11 occurred, to remember the sacrifices made that day, Ryan said.
Each year, the 5K run/walk officially begins at 8:46 a.m. to symbolize the moment the first plane impacted the North Tower of the World Trade Center.
While it is a difficult moment to remember, it's an important one never to forget.
"It's extraordinarily emotional. It's emotional to even talk about it," Ryan said, pausing for a moment. "We all said, 'Never forget,' and that's easy to say one day a year. But the other 364 days a year, you have to sometimes make yourself remember. And I think that's what this event says to the first responders. We have not forgotten and we won't forget."
For more information on the Greater Augusta 5K Run/Walk, visit the Tunnel to Towers website. Participants can register or donate to the event. Military members running or walking in uniform as a group, please register for free. Those interested in volunteering, please contact John Ryan at 706-495-6958.