Mental health is a growing topic in 2019 — particularly the mental health of college-aged students.
In the last two decades alone, the rates of anxiety and depression have skyrocketed among young adults, and 39% of college students report a significant mental health concern, according to the Healthy Minds Study. These rapid increases have challenged colleges and universities to provide sufficient resources to keep up with this rising demand.
Multiple departments at Augusta University — namely Student Health Services and Student Counseling and Psychological Services — are expanding and collaborating to address the needs of AU's growing student body.
In early July, Augusta University Student Health Services took its next big step to meet the rising demand for mental health care by hiring a full-time psychiatrist for its Student Health Clinic.
Dr. Jacqueline Locrotondo is a former chief resident of psychiatry at Augusta University Medical Center and the newest member at Student Health Services.
Dr. Robert Dollinger, director of Student Health Services, said he is thrilled to have Locrotondo on board.
"Dr. Locrotondo's professional passion is caring for the mental health of young adults through therapy and psychoeducation, so we're fortunate to have her as part of the Student Health Services team."
Working in conjunction with Student Counseling and Psychological Services (SCAPS), Locrotondo will address anxiety, depression, ADHD, eating disorders and many other common mental health conditions. At the Student Health Clinic, she will provide psychoeducation and — as medically necessary — order labs and diagnostic tests, as well as prescribe medication to help students manage these conditions.
Dollinger remarks that during his 30 years of college health experience, he's noticed a significant increase in interest in psychiatric support and other mental health services, and believes the growing demand is partially due to reduced stigma and increased awareness.
"Today's generation of college students is more knowledgeable and more open to talking about their mental health concerns," he said.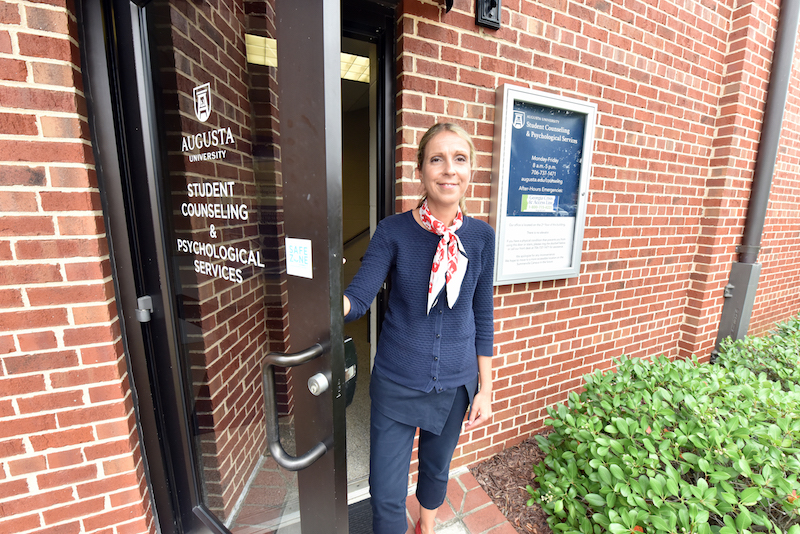 Dr. Elena Petrova, psychologist and newly named director of Augusta University SCAPS, concurs.
"Students are more aware of what mental health concerns are in 2019," Petrova said. "They're more likely to use clinical language, label their experiences and seek help."
Other explanations for the increase in mental health service use include generational differences in the perception of psychotherapy as well as institutional structures for identifying at-risk students (like behavioral intervention teams).
Growth in mental health service demand is well-documented on Augusta University's campus, so recent enhancements come at an ideal time. According to Petrova, there was a 79% increase in scheduled SCAPS appointments from Fall 2015 to Fall 2018. She also points out that service use is higher during the fall semesters as students come back to campus and must readjust to the demands of academia.
Petrova notes that when describing today's trends in mental health service use, universities must be cautious with buzz-phrases like "the mental health crisis." She explains that students are simply more aware of what mental health concerns are, and this makes them more comfortable seeking help.
"They are no more 'mentally ill' than before," Petrova said. "The crisis is not in mental health, but rather in supply. When we as a society made an investment to reduce mental health stigma, this created increased demand for mental health services. And Augusta University has made strides — and will continue to make strides — to meet that demand."
Dollinger and Petrova encourage students to take advantage of AU's many other resources, like the CARE Team and their comprehensive list of on-campus resources. Students with mental health conditions may also, at any time during the semester, reach out to Testing and Disability Services for academic accommodations.
To make an appointment with Student Health Services, including an appointment with Dr. Locrotondo on either campus, students may call 706-721-3448. To schedule a counseling appointment with SCAPS, students can call 706-737-1471.